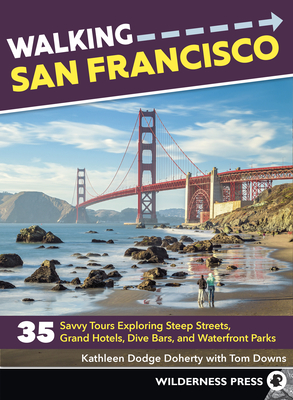 Walking San Francisco (Paperback)
35 Savvy Tours Exploring Steep Streets, Grand Hotels, Dive Bars, and Waterfront Parks
Wilderness Press, 9780899979090, 264pp.
Publication Date: February 12, 2019
* Individual store prices may vary.
Description
Get to Know San Francisco's Most Vibrant and Historic Neighborhoods
Grab your walking shoes and become an urban adventurer. San Francisco is a richly historic city of scenic vistas and diverse neighborhoods. Let Kathleen Dodge Doherty and Tom Downs guide you through 35 unique walking tours that traverse the City by the Bay's length and breadth. The self-guided tours lead you through the heart of the left coast.
Each featured walk includes full-color photographs and detailed neighborhood maps. The walks' commentaries touch upon such topics as architecture, culture, trivia, and a local history that includes the Gold Rush, the Summer of Love, and the current tech boom. Route summaries highlight points of interest on each tour, while tips on local cafes, bars, nightlife spots, and five-star dining options help to ensure that you find the "can't miss" locales.
Walking San Francisco takes you from the Embarcadero to Lands End, from Bernal Heights to Golden Gate Park. It provides the perfect path for a weekend, an after-work ramble, or a sociable pub crawl. Find a route that appeals to you, and walk San Francisco.
About the Author
Kathleen Dodge Doherty is a San Francisco-based freelance writer, adventurer, and lover of all things outdoorsy and literary. For more than two decades, Kathleen has been writing, editing, and reading about San Francisco--climbing hills, downing burritos, paying too much for coffee, and ferreting out speakeasies in the name of research. She is the author (with Jordan Summers) of Day & Section Hikes: John Muir Trail (Menasha Ridge Press) and has also written for Fodor's, Lonely Planet, Moon Handbooks, Afar Magazine, AAA Via Magazine, and many websites. A one-time researcher, developer, and leader of bicycling and hiking tours worldwide, Kathleen largely runs after her kids and jumps in local puddles these days. A swashbuckler at heart, Kathleen is continually surprised by the never-ending treasures that await in her city by the bay. Tom Downs grew up in the Santa Clara Valley, south of San Francisco. He has lived in Los Angeles, New York City, Oakland, and Berkeley, as well as in Chinatown and the MissionDistrict in San Francisco. He is a travel writer who has authored books and articles about New Orleans, Hanoi, and the West of Ireland for Lonely Planet, BBC Studios, and a host of magazines, newspapers, and websites. His photography has appeared in publications including National Geographic and The New York Times. In 2007 his post-Katrina Lonely Planet New Orleans was honored with the Lowell Thomas Award, granted by the Society of American Travel Writers, for Best Guidebook.