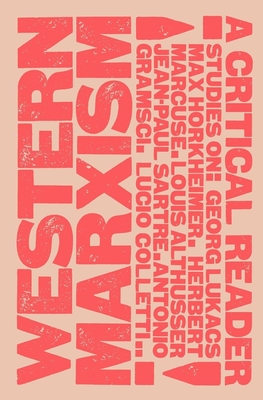 Western Marxism
A Critical Reader
Paperback

* Individual store prices may vary.
Description
This collection is designed to answer the demands of students and socialists, teachers and interested readers, for a comprehensive critique of the major schools of European Marxism since the October Revolution. It is composed of a series of carefully documented essays setting out the theories of the major thinkers of the tradition, and submitting them to searching criticism.

Essays include critiques of Lukács by Gareth Stedman Jones and Michael Löwy; a survey of the Frankfurt School by Göran Therborn; an assessment of the legacy of Gramsci, by John Merrington; exposition and criticism of the work of Sartre by André Gorz and Ronald Aronson; major assessments of Althusser by Norman Geras and André Glucksmann and a wide-ranging interview with the Italian philosopher Lucio Colletti that provides an overview of Western Marxism.
Praise For Western Marxism: A Critical Reader…
"The eight essays and one interview are a vital contribution, provocative and intelligent. A must."—Choice

"An extremely useful package of materials which should be of great value as a stimulus for reflection on the Western Marxist tradition."—Radical Philosophy

"An important contribution to the debate about contemporary Marxism."—Guardian

"The standard and originality of these pieces are themselves proof of a lively, productive yet critical Marxist tradition."—Time Out
Verso, 9780902308299, 356pp.
Publication Date: January 1, 1983