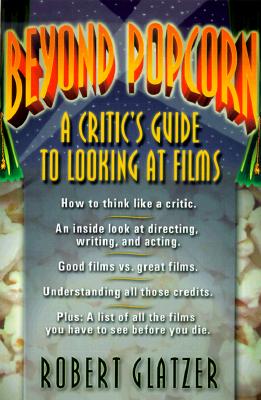 Beyond Popcorn (Paperback)
A Critic's Guide to Looking at Film
Eastern Washington University, 9780910055703, 168pp.
Publication Date: January 1, 2001
* Individual store prices may vary.
Description
In his engaging book Beyond Popcorn: A Critic's Guide to Looking at Films, Robert Glatzer offers a detailed and insightful look behind the scenes of filmmaking. Written for any movie lover, in a witty and knowledgeable style, this is a basic guide to understanding film. Glatzer deals with movies as an art from, not just as entertainment, and gives the reader valuable insights into just what makes one film better than another. The book has chapters on how a director directs, on styles of comedy, on musicals, and even what all the credits mean. Glatzer analyzes a number of important films, helping readers understand the key elements of writing, directing and acting. This book will make readers into better critics of the films they see. There's even a list and description of what he calls all the films you have to see before you die. -How a critic's brain works
-The difference between acting and acting in films
-Deciding where the camera goes
-What we learn from Buster Keaton
-Why we cry at the movies
-What all the other Oscars are about
-The greatest films of all time

About the Author
ROBERT GLATZER is a film critic and screenwriter in Spokane, Washington, where he hosts the weekly NPR show Movies 101. A former film director in New York and Hollywood, his films have won awards at festivals around the world. He has taught film at New York's School of Visual Arts and at Eastern Washington University.
or
Not Currently Available for Direct Purchase