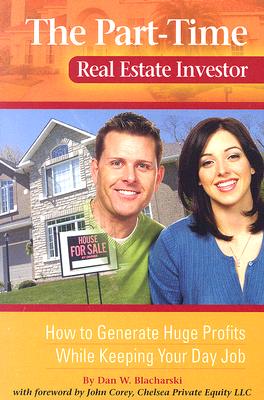 The Part-Time Real Estate Investor (Paperback)
How to Generate Huge Profits While Keeping Your Day Job
Atlantic Publishing Company (FL), 9780910627023, 288pp.
Publication Date: February 1, 2007
* Individual store prices may vary.
Description
Fortune Magazine states, 97 out of 100 self-made millionaires made their fortunes through Real Estate Investing, and the next 10 years will be a Golden Era for the informed Real Estate Investor. If you are saying to yourself that sounds great but I cannot quit my job and begin investing full time. This new book is for you You will learn how to become a skilled professional Real Estate Investor who can generate thousands, and yes, even millions of dollars, in your spare time. Unlike starting a retail business where you need to be there every day, you can work a full-time job and invest in real estate on the side, and reap huge profits. The key is time. The real estate investing business is a perfect part-time business because real estate is a business where the assets appreciate and cash flow is generated even when you are absent. This book will give you the information and advice necessary to buy, finance, and successfully manage a small number of positive cash flow producing properties in your spare time. Investing in real estate is one of the safest and smartest investments you can make. Real estate appreciates at a rate far greater than the rate of inflation, builds equity, provides a steady return on investment, provides cash flow, and can offer substantial tax benefits. With the sound guidance in this book you will be able to retire comfortably and EARLY A sampling of what's covered in this encyclopedic book includes: how to find below-market deals, investing with little or no down payment, seller financing, foreclosures and REOs, investment property, negotiating, purchase offers, managing rental property, flipping, auctions, tax sales, financing, mortgage terms, agents, cash flow, inspections, contracts, tenants, lease agreements, insurance, taxes and accounting, escrow, essential mathematical calculations, sample forms, development, taxation, and exchange rules. Atlantic Publishing is a small, independent publishing company based in Ocala, Florida. Founded over twenty years ago in the company president's garage, Atlantic Publishing has grown to become a renowned resource for non-fiction books. Today, over 450 titles are in print covering subjects such as small business, healthy living, management, finance, careers, and real estate. Atlantic Publishing prides itself on producing award winning, high-quality manuals that give readers up-to-date, pertinent information, real-world examples, and case studies with expert advice. Every book has resources, contact information, and web sites of the products or companies discussed. -- (1/21/2016 12:00:00 AM)
About the Author
Dan Blacharski has been a professional writer and online entrepreneur for over 15 years, and is a graduate of the University of California, Santa Cruz. He has written eight books and ghost-written several others; has produced thousands of print and online features, articles, and columns; and has helped many Internet companies jump into the fray. A refugee from Silicon Valley, Dan was there during the "dotcom boom," witnessing first-hand the incredible rise and fall of countless empires, and gaining insight into what makes a new-era Internet company succeed or fail. He worked directly with many of these companies, helping them to refine their messaging. Currently, he is also a contributing analyst for Compass Intelligence, a virtual "think tank" that provides world-class market analytic research. Dan is listed in Marquis' Who's Who, and as a long-time industry observer and visionary, has often been at the forefront of new innovations in the area of Internet commerce, chronicling their creation, working with start-ups to make them happen, and getting an inside look into where those innovations will lead us in the future. One of Dan's own entrepreneurial dotcom ventures is We Know The Answers http: //www.weknowtheanswers.com, an advertiser supported online informational site. He currently lives in South Bend, Indiana with his lovely wife Charoenkwan, where they enjoy spending time renovating their 120-year-old Victorian home; but having never gotten quite used to the frigid Midwest, they spend their winters in Bangkok.
or
Not Currently Available for Direct Purchase