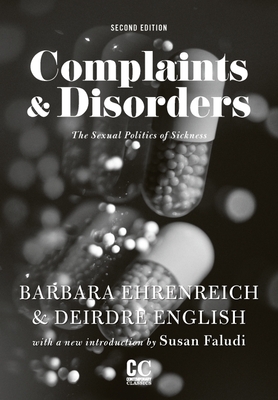 Complaints and Disorders (Paperback)
The Sexual Politics of Sickness
The Feminist Press at CUNY, 9780912670201, 96pp.
Publication Date: January 1, 1993
* Individual store prices may vary.
Description
In this exciting sequel to their underground bestseller, Witches, Midwives, and Nurses, Barbara Ehrenreich and Deirdre English document the tradition of American sexism in medicine before and after the turn of the century. Citing vivid examples, including numerous "treatments" and "rest cures" perpetrated on women through the decades, the authors analyze the biomedical rationale used to justify the wholesale sex discrimination throughout our culture-in education, in jobs, and in public life. Ever since Hippocrates, male medics have treated women as the "weaker" sex. By the late 19th century, when the authority of religious documents had waned, the ultimate rationale for sex discrimination became solely biomedical. In this intriguing pamphlet, the authors raise the diffuclt question: "How sick-or well-are women today?" They assert that feminists today want more than "more": "We want a new style, and we want a new substance of medical practice as it relates to women.
About the Author
Barbara Ehrenreich is author of the 2002 New York Times bestseller Nickel and Dimed: On (Not) Getting By in America. She has written nearly twenty books, and has been a columnist for Time magazine and the New York Times. She has contributed to The Progressive, Harpers, The Atlantic Monthly, Ms., The New Republic, Z Magazine, In These Times, and Salon.com. Deirdre English is the former editor of Mother Jones magazine. She has written for the Nation, New York Times Book Review, San Francisco Magazine, S.F. Chronicle Sunday Magazine, Vogue, and public radio and television. Currently, English is a professor at University of California, Berkeley's Graduate School of Journalism.
or
Not Currently Available for Direct Purchase