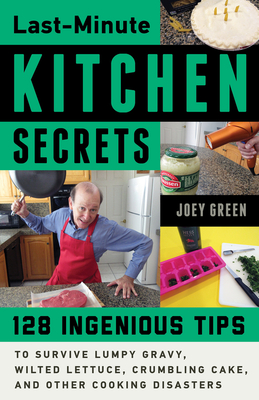 Last-Minute Kitchen Secrets (Paperback)
128 Ingenious Tips to Survive Lumpy Gravy, Wilted Lettuce, Crumbling Cake, and Other Cooking Disasters
Chicago Review Press, 9780912777580, 240pp.
Publication Date: August 1, 2018
* Individual store prices may vary.
Description
   Your guests are arriving in a half hour, and your dinner has taken a turn for the worse. The lettuce has wilted, the gravy's lumpy, and the pie crust has burned! Time for takeout? Not if you have Joey Green's Last-Minute Kitchen Secrets. This book contains more than a hundred helpful hacks to avoid and salvage cooking disasters, store and prepare ingredients, keep appliances running smoothly, and clean cookware. These simple, ingenious tips may sound quirky at first, but they really do work.
   The book also includes food-based folk remedies, sidebars with fascinating kitchen trivia, and unconventional recipes. Dishwasher salmon anyone?
About the Author
Joey Green is the author of more than 50 books, including Last-Minute Survival Secrets, Last-Minute Travel Secrets, Vacation on Location: Midwest, and Polish Your Furniture with Panty Hose. He has written for Rolling Stone, National Lampoon, TIME, and more.
Praise For Last-Minute Kitchen Secrets: 128 Ingenious Tips to Survive Lumpy Gravy, Wilted Lettuce, Crumbling Cake, and Other Cooking Disasters…
"Beginning cooks often despair when recipes fail or foods burn. Versatile Green…comes to the rescue with hundreds of tips to overcome just about any sort of kitchen disaster, from a missing ingredient to wilted greens…Even experienced home chefs may find new insight here."—Booklist