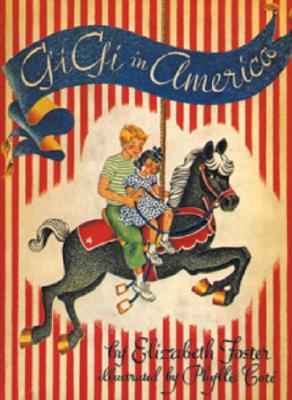 Gigi in America: Sequel to Gigi: The Story of a Merry-Go-Round Horse (Paperback)
Sequel to Gigi: The Story of a Merry-Go-Round Horse
North Atlantic Books, 9780913028698, 123pp.
Publication Date: January 29, 1993
* Individual store prices may vary.
or
Not Currently Available for Direct Purchase
Description
Gigi was a very unusual merry-go-round horse. His mother was a pine tree and his father the wind that sweeps through the Vienna woods. But when Gigi came to the merry-go-round in the park in Vienna, he was quite frightened and shied at the gold ring. The children wouldn't ride him until Lili helped him jump for the rings, and he became the favorite horse of all, even of the little prince. These days were to happy to last. When World War I came, the merry-go-round horses were disbanded, and Gigi, and alone and sad at being parted from Lili, found himself in Paris where he learned to speak French and was sold again to a man from England. How Gigi escaped from the junk man in the Caledonia Market in London, came to America, travelled the Maine coast with a band of gypsies, and met his beloved Lili again in New York's Central Park, brings his travels to a mysterious and heart-warming conclusion.
About the Author
Elizabeth Foster (1905-1963) always wanted to be a writer like her father and grandfather. She was born in Cleveland, Ohio, but moved as a young child to New York City and Maine, where the family spent half the year. The Maine island, the home that Elizabeth Foster loved, was an isolated location that gave a young avid reader plenty of time and opportunity to read all the books available in her literary household. For a time, she attended the Art Student's League in New York, but then returned to her ambition to become an author. Her first novel, Singing Beach, was published in 1941. It was set in Maine, as were three subsequent books. Another novel, The Days Between, told the story of a group of evacuees from Paris during WWII. In 1946, Elizabeth Foster wrote the history of her beloved Maine island. From its design and construction by her grandfather to its sad ending, the house took shape in the pages of The Islanders and came alive through the stories of those who lived and visited there. The Islanders became a bestseller and is well remembered and cherished by countless devotees of the Maine woods. Gigi, the author's first children's book was equally popular and has been equally cherished through the years. Elizabeth Foster died in 1963. Her literary papers have been donated to the Maine Womens Writers Collection at Westbrook College in Portland, Maine.
Advertisement