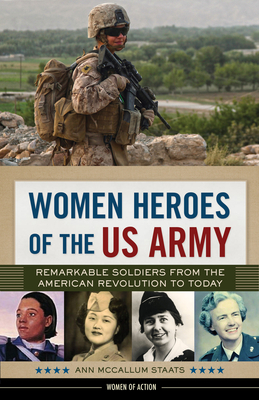 Women Heroes of the US Army (Hardcover)
Remarkable Soldiers from the American Revolution to Today (Women of Action)
Chicago Review Press, 9780914091240, 240pp.
Publication Date: July 9, 2019
* Individual store prices may vary.
Description
Though early laws prohibited women from becoming soldiers, they still found ways to serve, even disguising themselves as men in order to participate in active battle. Women Heroes of the US Army chronicles the critical role women have played in strengthening the US Army from the birth of the nation to today. These smart, brave, and determined women led the way for their sisters to enter, grow and prosper in the forces defending the United States. Through the profiles highlighting the achievements of these trailblazers throughout history, young women today can envision an equitable future.
 
About the Author
Ann McCallum Staats holds a BA in Education from University of Victoria, BC, and an MA in Education from the University of Maryland. She is the author of six children's books including The Secret Life of Math, which won ForeWord's Gold Book of the Year, and the Eat Your Homework series. She is currently an ESOL high school teacher and a member of SCBWI as well as the Children's Book Guild of Washington, DC.