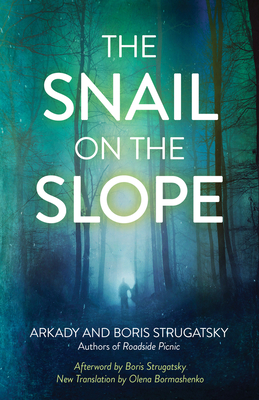 The Snail on the Slope (Rediscovered Classics) (Hardcover)
Chicago Review Press, 9780914091875, 256pp.
Publication Date: August 1, 2018
Other Editions of This Title:
Paperback (8/1/2018)
MP3 CD (8/1/2018)
Compact Disc (8/1/2018)
Compact Disc (8/1/2018)
* Individual store prices may vary.
Description
   A neglected masterpiece by Russian science fiction greats Arkady and Boris Strugatsky, who thought of it as their "most complete and important work," The Snail on the Slope disappeared almost immediately after it was first published in a small mass-market edition in the United States in 1980. In the meantime, however, it went through twenty-seven editions in fifteen other countries, making it one of the Strugatsky brothers' most popular works worldwide, along with Roadside Picnic and Hard to Be a God. Now, in a stunning new translation, this tour de force is ready to be introduced to a new generation of American readers.
   The novel takes place in two worlds. One is the Administration, an institution run by a surreal, Kafkaesque bureaucracy whose aim is to govern the forest below. The other is the forest, a place of fear, weird creatures, primitive but garrulous people, and violence. Peretz, who works at the Administration, wants to visit the forest. Candide crashed in the forest years ago and wants to return to the Administration. Their journeys are surprising and bizarre, and readers are left to puzzle out the mysteries of these foreign environments. Brilliant, enigmatic, evocative, and revelatory, The Snail on the Slope is one of the greatest literary works to come out of Soviet Russia.
About the Author
Arkady (1925–1991) and Boris (1933–2012) Strugatsky were the most famous and popular Russian writers of science fiction, with over twenty-five novels and novellas to their name, including Roadside Picnic, Hard to Be a God, The Doomed City, and Monday Starts on Saturday. Their books have been widely translated and made into a number of films.

Olena Bormashenko has been acclaimed for her translations of the Strugatskys' Roadside Picnic and Hard to Be a God.
Praise For The Snail on the Slope (Rediscovered Classics)…
"The Snail on the Slope may be the most dizzyingly concentrated dose of the Strugatskys' strange and powerful medicine." —Jonathan Lethem
"[Arkady and Boris Strugatsky] open windows in the mind and then fail to close them all, so that, putting down one of their books, you feel a cold breeze still lifting the hairs on the back of your neck." —New York Times
"One of the Strugatsky brothers is descended from Gogol and the other from Chekhov, but nobody is sure which is which." —Ursula K. Le Guin
"If Russian sci-fi can be said to have a soul, it resides with the brothers Strugatsky." —NPR
"Any Strugatsky opus shows them to be potent and resourceful tellers of tales . . . for the authors have grasped the secret of storytelling: good fiction is never primarily about ideas, but only about people and their interactions with ideas and with one another." —Theodore Sturgeon