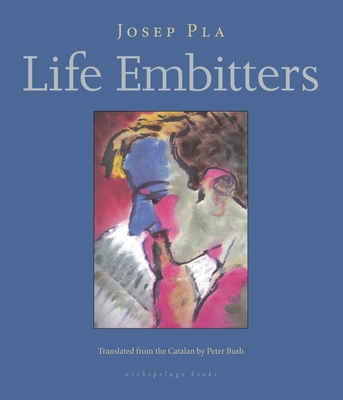 Life Embitters (Paperback)
Archipelago, 9780914671138, 600pp.
Publication Date: May 5, 2015
* Individual store prices may vary.
Description
A book of stories, or "narrations," by the finest Catalan writer of his generation. In this beautiful work, translated into English for the first time, Pla transcribes his witnessings of basic truths: the waves of the sea, the hardness of rolled tobacco. The reader feels tangibly the pleasure with which Pla puts the sensual and real on paper.
About the Author
Josep Pla (1897-1981) was a Catalan writer and journalist who lived in Spain, France, Italy, England, Germany, and Russia. He was awarded The Gold Medal of the Autonomous Government of Catalonia for his contribution to Catalan literature. His complete works are published in thirty-eight volumes. 

Peter Roland Bush is an English literary translator. He has translated works from Spanish, Portuguese and Catalan to English, including the work of Juan Carlos Onetti, Juan Goytisolo, and Fernando de Rojas.
Praise For Life Embitters…
"Moving around the capitals of Europe in a time of depression and unremitting melancholy, Pla often serves up small moments of perhaps unintentional brilliance [...] Students of Orwell's journalism and of Kapuscinski will be glad to discover Pla, whose melancholy resembles that of his contemporary Stefan Zweig—and for some of the same reasons." — Kirkus Reviews


"This new translation of Josep Pla is an unclassifiable, happy mix of stories, memoir, essays, anecdotes and travel pieces, all brought together by Pla's wonderfully direct, ironic style... Combining general comment and the immediacy of close observation, he helps us see the world afresh." — Michael Eaude, Catalonia Today

"Josep Pla was a great noticer of things and places; his gaze was alert and dry; he wrote in a style which registered both the smallest detail and the large picture. His relationship to Catalan identity and Spanish history was complex, often ambiguous. His relationship, however, to the scene in front of him, or the days in which he lived, remains fascinating for its clarity, its sharpness, its originality and its wit. On display in his work is a glittering and sparkling sensibility." — Colm Tóibín

"Pla's book of "narrations" shows us why this Catalan writer is considered the "finest…of his generation." Each narrative piece is like a still-life, focusing on the tangible and memorable things of this world. Pla invites us to share his perspective on the complexity and sensuality of our surroundings." — Book Riot

"Pla is [...] one of Catalonia's greatest authors." — Three Percent

"Pla has often been compared with the great Joseph Roth – they were both astute witnesses of their respective worlds... Outstanding." — Eileen Battersby, The Irish TImes

"Considered one of the most influential Catalan authors of the twentieth century, [Pla] was born and raised in the Empordà, and over the course of his life wrote over 30,000 pages of prose in which he diligently catalogued the landscape and the life and habits of the people of the region. His complete works, published and republished over the years, contain marvelous descriptive passages that capture the landscape's history and its complex topography at once." — Words Without Borders

"An excellent translation by Bush… delightful. Pla loves people and honest conversation. His ear for dialogue is faultless, his snatches of overheard conversation are meticulously realistic… The tone of the stories is often a bubbling good humor..." — Nick DiMartino

"Life Embitters, probably the best book in Josep Pla's vast body of work, is a literary feast which combines all his best qualities at once: the sharpness of the journalist, the modern style of the novelist, and the insight and lucidity of the autobiographer. Through these stories, Pla distills the experiences of a young man traveling around a dramatically changing Europe. This is the book I recommend whenever someone asks me about Catalan literature." — Jordi Punti, translator and author of Lost Luggage
or
Not Currently Available for Direct Purchase