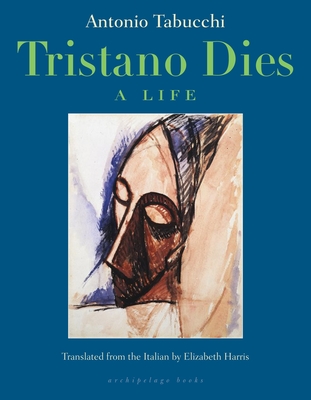 Tristano Dies
A Life
Paperback

* Individual store prices may vary.
Description
It is a sultry August at the very end of the twentieth century, and Tristano is dying. A hero of the Italian Resistance, Tristano has called a writer to his bedside to listen to his life story, though, really, "you don't tell a life…you live a life, and while you're living it, it's already lost, has slipped away." Tristano Dies, one of Antonio Tabucchi's major novels, is a vibrant consideration of love, war, devotion, betrayal, and the instability of the past, of storytelling, and what it means to be a hero.
Praise For Tristano Dies: A Life…
Winner of the 2016 ALTA National Translation Award

"[S]triking and slippery... Tristano's philosophizing is oak-solid, engaging, and often black-humored... Tristano is a great admirer of Borges, and this book evokes his wordplay as well as his eagerness to manipulate time and storytelling like taffy. An admirable if challenging reworking of the overworked themes of war-hero tales." — Kirkus Reviews

"Tristano muore is a dark meditation on the approach of death in what he portrays as the difficult, even humiliating context of Italian culture today. Sometimes bitter but also frequently lyrical, this latest book by Tabucchi is deeply skeptical about the power of art to console the pangs of our mortality. Nevertheless, Tristano muore is a powerfully engaging and beautifully written novel that may come in time to rank as one of this author's best." -- Charles Klopp, World Literature Today 

"Gorgeous if a challenge for those who want things plain, this will please smart readers ready to applaud the energized imagination of the late Italian master."
— Barbara Hoffert, Library Journal Reviews


More Praise for Tabucchi:

"Tabucchi's work has an almost palpable sympathy for the oppressed." -- The New York Times

"[Tabucchi's] prose creates a deep, near-profound and sometimes heart-wrenching nostalgia and constantly evokes the pain of recognizing the speed of life's passing which everyone knows but few have the strength to accept ... Wonderfully thought-provoking and beautiful." -- Alan Cheuse, NPR's All Things Considered

"There is in Tabucchi's stories the touch of the true magician, who astonishes us by never trying too hard for his subtle, elusive and remarkable effects." -- The San Francisco Examiner 
"The Woman of Porto Pim is one of the earliest texts in Tabucchi's impressive oeuvre, but it reads as the work of a mature author, one with the patience to listen to the small stories of others and tease out their greatness." -- World Literature Today

"The attraction here is not only a book which is laid out with grace and elegance, the Archipelago touch, but in Tabucchi's lovely style..." -- Oliver Morton, Ralph Mag

"What a strange and wonderful book [The Woman of Porto Pim] is! If, like me, you are interested in shipwrecks, whales, the Azores and the unique way in which only literature can bring a location to life, and if you like the unclassifiable, small works by authors such as Michael Ondaatje and Italo Calvino -- then have I got the book for you ... Wildly inventive." -- Minneapolis Star-Tribune
Archipelago, 9780914671244, 160pp.
Publication Date: November 10, 2015
About the Author
Antonio Tabucchi was born in Pisa in 1943 and died in Lisbon in 2012. A master of short fiction, he won the Prix Médicis Etranger for Indian Nocturne, the Italian PEN Prize for Requiem: A Hallucination, the Aristeion European Literature Prize for Pereira Declares, and was named a Chevalier des Arts et des Lettres by the French Government. Together with his wife, Maria José de Lancastre, Tabucchi translated much of the work of Fernando Pessoa into Italian. Tabucchi's works include Time Ages in a Hurry, The Flying Creatures of Fra Angelico, and The Woman of Porto Pim (Archipelago), Little Misunderstandings of No Importance, Letter from Casablanca, and The Edge of the Horizon (New Directions). 

Elizabeth Harris's translations appear in numerous literary journals and anthologies. Her translated books include Mario Rigoni Stern's Giacomo's Seasons (Autumn Hill Books) and Giulio Mozzi's This Is the Garden (Open Letter Books). For Tristano Dies, she received a 2013 PEN/Heim Translation Fund Grant. She teaches creative writing at the University of North Dakota.
or
Not Currently Available for Direct Purchase