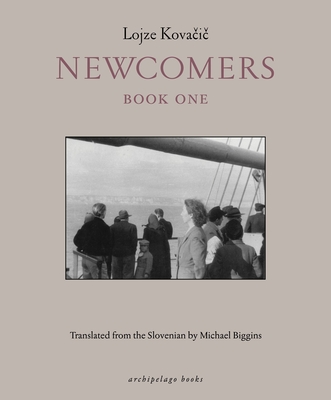 Newcomers (Paperback)
Book One
Archipelago, 9780914671336, 250pp.
Publication Date: May 24, 2016
Other Editions of This Title:
Paperback (1/28/2020)
* Individual store prices may vary.
Description
The first volume of this three-part autobiographical series begins in 1938 with the expulsion of the Kovacic family from their home of Switzerland, eventually leading to their settlement in the father's home country of Slovenia. Narrated by Kovacic as a ten-year-old boy, he describes his family's journey with uncanny naiveté. Before leaving their home, he imagines his father's home country as something beautiful out of a fairytale, but as they make their way toward exile, he and his family realize that any attempt to make a home in Slovenia will be in vain. Confronted by misery, hunger, and hostility, the young boy refuses to learn Slovenian and falls silent, his surroundings becoming a social, cultural and mental abyss. 

Kovačič meticulously, boldly, and sincerely portrays the objective, everyday world; the style is clear and direct. Told from the point of view of a child, one memory is interrupted by fragments and visions of another. Some are innocent and tender, while others are miserable and ruthless, resulting in a profound and heart-wrenching description of a period torn apart by conflict, reflected in the author's powerful and innovative command of language.
About the Author
In 2016, Lojze Kovačič was voted the most outstanding Slovenian novelist of the past quarter century by a jury of eighteen leading Slovene literary historians and critics. Archipelago's release of the first volume of his three-volume masterpice Newcomers is the first work by him to appear in English.

Lojze Kovačič was born in Basel in 1928 to a German mother and Slovenian father. In 1938 the family was exiled to Slovenia, where Kovačič lived until his death in 2004. He is considered to be one of Slovenia's most significant authors, and Newcomers is widely regarded the most important Slovenian novel of the twentieth century. He received the Prešeren Award for life achievement in 1973, and the Kresnik Award for best novel in 1991 and 2004 for Crystal Time and Things of Childhood. In addition to his novels and short story collections, Kovačič also published a number of books for children and young readers. 


About the Translator:
Michael Biggins has translated works by a number of Slovenia's leading contemporary writers. He currently curates the library collections for Russian and East European studies and teaches in the Department of Slavic Languages and Literatures, both at the University of Washington in Seattle.
Praise For Newcomers: Book One…
Kovačič voted the outstanding Slovene novelist of the past twenty-five years

"Newcomers crystallizes into a classic artist's coming-of-age story, as Bubi is drawn to painting and then writing, where, as in this rich and fascinating novel, he will search for a way to synthesize the enchantments of youth with the hard realities of the war." — Wall Street Journal

"Kovačič has often been compared to Proust for his ability to recapture the past, though there is something of Tolstoy in him as well—the dense feeling of reality his work evokes—and of the writer Danilo Kiš, whose "family cycle" so richly recalls the wartime Hungary of his childhood. These are admittedly august names, but Kovačič belongs in their company. Newcomers is a novel of grand and appalling power. It is a human-smelling work, slick with sweat, trembling with appetite. And deeply sad in its loneliness and privation, too. It wounds us in the way our own memories do. It is a marvelous and humane feat of clarity and consolidation." — The Nation

"Like Karl Ove Knausgaard's My Struggle and Elena Ferrante's Neapolitan Novels, Newcomers is a European saga ... that begins with the author's youth and creeps outward, describing life with a rare acuity that not only captures both its dramas and banalities, but also considers them with equal significance. Newcomers is an emblem of what memory — personal memory, political memory, a place's memory — can create from erasure... [C]uriously hypnotic." --Los Angeles Review of Books

"A powerful chronicle of conflict and upheaval within both a family and a country, as told, and experienced, by a young, engaging, clearsighted boy . . .This fine novel is not only accessible, but deeply memorable." -- Minneapolis Star Tribune

"Kovacic impressively catches the mood of the early years of the Socialist Federal Republic of Yugoslavia. The volumes are masterpieces. They are bitter, but grippingly intense in their description... Newcomers is a mnemonic sleight of hand of botanical exactitude, a weighty historical document whose significance will only grow." --Sign and Sight

"Epic and panoramic... Newcomers turns stereotypes on their heads, as novels of the century should do--stereotypes such as the dignity of rural poverty, the unifying sanctity of the Slovenian language, and the noble heroism of resistance." --Erica Johnson Debeljak, Context

"One of the major Slovenian prose writers of the last sixty years." --Words Without Borders

"In this second part of the famous Slovenian writer's autobiographical novel, the narrator details the dangers and humiliations of his boyhood living in occupied Slovenia in the Second World War...Reeling from the loss of his home in Switzerland, and surrounded by a language he can't quite master, Bubi confronts the challenges and humiliations of growing up in a strange environment. Narrated with uncanny naïveté, the novel flits between memories of tenderness and shocking violence as Bubi navigates friendship, family, and his burgeoning sexuality in a land under hostile occupation." — Translated Lit
or
Not Currently Available for Direct Purchase