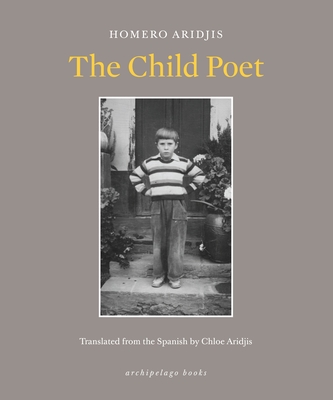 The Child Poet (Paperback)
Archipelago, 9780914671404, 153pp.
Publication Date: February 23, 2016
* Individual store prices may vary.
Description
Homero Aridjis has always said that he was born twice. The first time was to his mother in April 1940 and the second time was as a poet, in January 1951. His life was distinctly cleaved in two by an accident. Before that fateful Saturday he was carefree and confident, the youngest of five brothers growing up in the small Mexican village of Contepec, Michoacán. After the accident - in which he nearly died on the operating table after shooting himself with a shotgun his brothers had left propped against the bedroom wall - he became a shy, introspective child who spent afternoons reading Homer and writing poems and stories at the dining room table instead of playing soccer with his classmates. After the accident his early childhood became like a locked garden. But in 1971, when his wife became pregnant with their first daughter, the memories found a way out. Visions from this elusive period started coming back to him in astonishingly vivid dreams, giving shape to what would become The Child Poet.


Aridjis is joyously imaginative. The Child Poet has urgency but still takes its time, celebrating images and feelings and the strangeness of childhood. Readers will love being in the world he has created. Aridjis paints the pueblo of Cotepec -- the landscape, the campesinos, the Church, the legacy of the Mexican Revolution -- through the eyes of a sensitive child.
About the Author
One of Latin America's foremost literary figures, Homero Aridjis was born in Contepec, Michoacan, Mexico. Many of his forty-five books of poetry and prose have been translated into fifteen languages, and his writing has been recognized with important literary prizes. Formerly Mexican Ambassador to Switzerland, The Netherlands, and UNESCO, during six years he was international president of PEN International and is now president emeritus. As founder (in 1985) and president of the Group of 100, an environmentalist association of writers, artists, and scientists, he has received awards from the United Nations, the Orion Society, Mikhail Gorbachev and Global Green USA and the Natural Resources Defense Council. Tiempo de ángeles/A Time of Angels, Eyes to See Otherwise, Solar Poems, and 1492 The Life and Times of Juan Cabezon of Castile are among his books available in English. 


About the Translator:
Chloe Aridjis was born in New York and grew up in the Netherlands and Mexico City. After receiving a BA from Harvard, she went on to receive a PhD in nineteenth-century French poetry and magic shows at Oxford. Her 2009 novel Book of Clouds (Grove) was published in eight countries, and won the French Prix du Premier Roman Etranger.
Praise For The Child Poet…
"Proust meets magical realism in this searching, lyrical memoir... In this soft-spoken account, [an] accident transforms Aridjis from boisterous lad to a bookish solitary who turns to poetry. It would not be a modernist Latin American literary work without at least a moment reminiscent of García Márquez, and there are many here, as when a suitor rejected by his aunt takes up the habit of sitting in the town square holding a protective umbrella, 'though the sky was clear'... A fine introduction to a writer who deserves to be better known to English-language readers." — Kirkus Reviews 

The Child Poet "recounts in prose a series of dreams that the poet experienced during his wife's pregnancy with his first daughter… There is a beautiful symbolism in this book's being translated by Aridjis's daughter… Aridjis's imagery is childlike in the best possible sense. It reflects the wonder of seeing things for the first time, the wonderment of dawning awareness, before ending with a sudden, declarative terseness that announces his arrival as a poet." — The Poetry Review

"This is writing that by the force of authenticity ultimately matters." — Cleaver Magazine

"Glorious." - Eileen Battersby, Irish Times (Best Books of 2016)

"Homero Aridjis believes his own poet's life began after a gun injury in childhood. The injury created the poet yet he is proposing too that childhood is poetry, an accumulative first encounter with the stuff that the rest of the life will be working through.  The writing here is awesomely beautiful—rich, kinetic and even macabre.... I'm aware throughout that this quick and lucid feeling translation is the product of Chloe Aridjis, the poet's daughter. To be medium to the matter-of-fact privilege of a male child coming into his own in a man's world, particularly when that child is your future illustrious dad brings a fantastic and even trans glow to this baroque and embodied tale of youth understanding in hindsight his future powers." — Eileen Myles, author

"Homero Aridjis's poems open a door into the light." - Seamus Heaney


"[Aridjis'] poems leave a stunning record of images caught between the traumas and the paradises of the past." - Cold Mountain Review

"In some ways not even the poetry of Octavio Paz can compare with the production of Aridjis." - The Texas Observer

"In the poetry of Homero Aridjis there is the gaze, the pulse of the poet, the discontinuous time of practical and rational life and the continuity of desire and death: there is the poet's primal truth." - Octavio Paz

"He is a visionary poet of lyrical bliss, crystalline concentrations and infinite spaces... I can think of no poet of Aridjis' generation in the Western Hemisphere who is as much at ease in the blue spaces of illumination - the illumination of transcending love. These are words for a new Magic Flute." - Kenneth Rexroth (Introduction to "Blue Spaces")

"A great flame passes through the words, the poetry of Homero Aridjis, who sets reality alight in images that at once illuminate and consume it, making life a sister of dream. Homero is a great poet; our century has great need of him." - Yves Bonnefoy


"The poetry of Homero Aridjis is a symbol of love. His work is very beautiful, above all, his style is very original, very novel." - Juan Rulfo

"Through the two currents of his fiction, with historical background and futuristic themes, Aridjis has brought and is bringing a contribution to Hispano-American narrative which places him among the greatest authors of the 20th Century." - Giuseppe Bellini, on The Lord of the Last Days: Visions of the Year 1000

"A book of remarkable imaginative power, a looming shadow of a book, a pit and a pendulum all in one, measuring and burying, remorselessly bizarre. It is impossible not to respect the eloquence which Aridjis brings to lives facing the threat of sudden death at every point and the subtlety with which he insists that the death of the spirit is more terrible than anything that may befall the body." - The Guardian, UK on 1492: The Life and Times of Juan Cabezon of Castille

"Thus the poet (the 'child poet' who alone sees and perceives everything, even terror and ecstasy) is the one who opens the way. He acts on impulses, led by intuition rather than reason --- for even reason must be abandoned at the very last instant, as Islamic mystics teach, to make way for ecstasy. He is the first to perceive the fate of the world. To attain knowledge, one must :
     Burn the boats/ that the old shadows / will not follow us / to the new land" -- J. M. G. Le Clézio
or
Not Currently Available for Direct Purchase