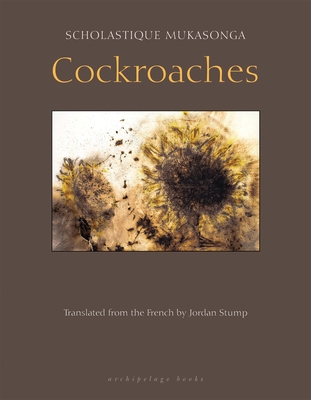 Cockroaches
Paperback

* Individual store prices may vary.
Description
Imagine being born into a world where everything about you—the shape of your nose, the look of your hair, the place of your birth—designates you as an undesirable, an inferior, a menace, no better than a cockroach, something to be driven away and ultimately exterminated. Imagine being thousands of miles away while your family and friends are brutally and methodically slaughtered. Imagine being entrusted by your parents with the mission of leaving everything you know and finding some way to survive, in the name of your family and your people.

Scholastique Mukasonga's Cockroaches is the story of growing up a Tutsi in Hutu-dominated Rwanda—the story of a happy child, a loving family, all wiped out in the genocide of 1994. A vivid, bitterwsweet depiction of family life and bond in a time of immense hardship, it is also a story of incredible endurance, and the duty to remember that loss and those lost while somehow carrying on. Sweet, funny, wrenching, and deeply moving, Cockroaches is a window onto an unforgettable world of love, grief, and horror.
Praise For Cockroaches…
A PEN Center USA 2017 Literary Awards finalist for Translation
One of 50 best memoirs of the past 50 years — The New York Times

"[Mukasonga's] haunting, urgent personal history of the Rwandan genocide (translated by Jordan Stump) will deeply shade your map." — New York Times Book Review

"A child's view of one of history's most chilling instances of genocide. . . . 'I wasn't only Tutsi,' [Mukasonga] recalls of the ethnic turmoil that made her a refugee, 'I was an Inyenzi, one of those cockroaches they'd expelled from the livable part of Rwanda, and perhaps from the human race.' Such people, she writes later, were 'fit only to be crushed like cockroaches, with one stomp. But they preferred to watch us die slowly.' . . . A thoughtful, sobering firsthand account of the refugee experience, a story that speaks to readers far beyond the African highlands." -- Kirkus Reviews

"Related with brave, sobering, steely-eyed calm" -- Library Journal (Starred Review)

"Harrowing ... Mukasonga's powerful and poignant book plants itself in that terrible absence, its stone etched with a difficult, necessary grief." -- Publishers Weekly

"Cockroaches stands out for its bracing, unmitigated, and often bitter ironies." — New York Review of Books

"Scholastique Mukasonga has done something extraordinary with her autobiographical work Cockroaches. In straightforward prose over a mere 165 pages, in a binding approximately the size of a 5x7 family photograph, she harnesses four decades of devastating imagery and emotion emanating from the genocide of the Tutsi people in Rwanda. From the heartrending dedication to the last page, Mukasonga holds the reader's aghast but rapt attention through the hardships endured and resilience shown by her family and their fellow refugees... Cockroaches is a haunting love letter to the lost, beautifully written and imbued with controlled emotion, a story to which we should all bear witness." — Lauren O'Brien of Malcolm Avenue Review, in Shelf Awareness

"Cockroaches is vital precisely because it reconfigures not only a common understanding of the genocide in Rwanda, but privileged assumptions about peace more generally ... When she left Rwanda, Mukasonga understood that her role was "to live in the name of others." You get the sense that every sentence in Cockroaches bears this weight and is, therefore, a remarkable achievement." — Lara Pawson, Times Literary Supplement

"Heavy, unflinchingly raw, inspiring." — Book Stalker Blog

"We are told that Rwanda is now a peaceful country; the ethnic massacres of the 1990s are all behind them now and all is forgotten and forgiven(?). But even before that ethnic cleansing, before the term was even used, there were post-colonial massacres that singled out Tutsis. Told by one who survived and thrived by some miracle [...] Her memories are bitter and I challenge you to read this without tears and without wondering what is to become of humanity." — Darwin Ellis, Books on the Common

"Beautifully written in the graceful, lilting prose that dominated Our Lady of the Nile." - Eileen Battersby, Irish Times (Best Books of 2016)

"Written with a restraint and simplicity that touches directly...on the heart of life, on the eye of the cyclone. There is a force to these words, something that delves into the most profound depths of things. Scholastique Mukasonga's voice is as if broken away from the night, taut but pure, clear, vibrant, with a tranquil force...Read it." --Farenheit 451

"A kind of memoir also, a real homage to the dead that Mukasonga loved and that she stands vigil over now. This book gives them the dignified burial that they never received." --Marie-Alix Saint-Pau, Africa Vivre

"[Mukasonga] describes with humility the daily inferno that was her family's existence during the years before the massacre in the spring of '94...Sholastique Mukasonga cannot obtain reparations for the horrors she endured, but here she accomplishes a feat of memory and a story of surprising sobriety." --Urobepi, Coups de Coeurs Littéraires (Et Plus)

"The genocide in Rwanda has been depicted in many ways, but few have succeeded ... like
Scholastique Mukasonga in recreating the world that in 1994 was shattered to pieces." — Svenska Dagbladet

"[After she was awarded the Prix Renaudot] I went out and procured every work by
Scholastique Mukasonga.... Never has a prize been more merited." - Frederic Beigbeder, Lire




Praise for Our Lady of the Nile (2014, Archipelago):

   • A Publishers Weekly Book of the Year for 2014
   • Longlisted for the International Dublin Literary Award
   • "In part, this is a good-humored yearbook of the adventures and scandals among the all-girl school's precocious teenage charges, where the greatest peril to morality is the arrival of a male teacher with long blond hair. But soon the school, abetted by its hypocritical administrators (including those Belgian civilizers), becomes a petri dish for Hutu militancy, and normal adolescent pranks take on horrifying consequences. The novel's abrupt transition from a naïve coming-of-age story to a violent tragedy is jarring--though surely it doesn't even begin to convey the shock of the reality." - The Wall Street Journal
   • "[Mukasonga's] deliciously limpid, melodious style makes Rwandan daily life vividly accessible ... Mukasonga expertly draws together all her threads and stories in climactic sequences to create a skillfully-orchestrated vision, both loving and fearful, of her beloved homeland ripped apart by vicious racial hatred." - Shelf Awareness
   • "Our Lady of the Nile swept me up with its artful bitterness [...] [Our Lady of the Nile] is buoyed by its air of foreboding consequence that imparts urgency to almost every page." - Barnes & Noble Review
Archipelago, 9780914671534, 165pp.
Publication Date: October 25, 2016
About the Author
Born in Rwanda in 1956, Scholastique Mukasonga experienced from childhood the violence and humiliation of the ethnic conflicts that shook her country. In 1960, her family was displaced to the polluted and under-developed Bugesera district of Rwanda. Mukasonga was later forced to leave the school of social work in Butare and flee to Burundi. She settled in France in 1992, only two years before the brutal genocide of the Tutsi swept through Rwanda. In the aftermath, Mukasonga learned that 37 of her family members had been massacred. Twelve years later, Gallimard published her autobiographical account Inyenzi ou les Cafards, which marked Mukasonga's entry into literature. This was followed by the publication of La femme aux pieds nus in 2008 and L'Iguifou in 2010, both widely praised. Her first novel, Notre-Dame du Nil (Our Lady of the Nile), won the Ahamadou Kourouma prize and the Renaudot prize in 2012, as well as the Océans France Ô prize in 2013 and the French Voices Award in 2014, and was shortlisted for the 2016 International Dublin Literary award.