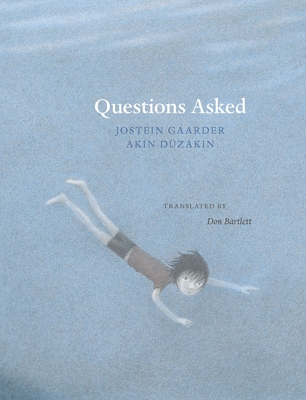 Questions Asked
Hardcover

* Individual store prices may vary.
Description
A picture book with fundamental philosophical questions, posed in a way only Jostein Gaarder is capable of. The illustrator has made an independent visual narrative that underscores the existential aspect of Jostein Gaarder's philosophical questions. Questions Asked shows confidence in a child's capacity to think deeply and read between the lines. The book follows a little boy traveling alone in an open landscape. Soon we realize he is on a journey of thoughts and dreams, asking questions about loss, myth, language, magic, and what it means to be a human being. Jostein Gaarder's philosophical questions merge with the beautiful illustrations of Akin Düzakin into a tale of friendship, love, and grief - and about daring to think about life as you live it.
Praise For Questions Asked…
"This gem by the Norwegian novelist Gaarder, with sweet, spectral art by the Turkish-Norwegian illustrator Duzakin, is a simple list of big questions all of us would do well to ask about life and how best to live it. As the topics flit around delightfully, it avoids being either heavy-handed or precious. . . Any of these could spur a deep conversation with a curious kid — or adult." — Maria Russo, New York Times Book Review

"Questions Asked taps the philosophical tendencies of 5-year-olds and up — all the way up — by venturing playfully into unanswerable territory." —Radhika Jones, The New York Times Book Review

"A heady contemplation of mortality and existence. . . A haunting and provocative reminder that the void left by a person's death or departure is often filled by difficult, even unanswerable questions." — Publishers Weekly

"[Jostein Gaarder] brings out the existentialist in even the youngest reader... A story about love, death, and many topics in between... provide[s] an opportunity for readers of all ages to explore their own feelings on these same subjects and the world around them. Quiet, respectful, and touching." — Kirkus Reviews

"Moving and meditative . . . Anything's possible here. Give this eerily enchanting, one-of-a-kind collection to curious youngsters—and prepare for discussion." —Briana Shemroske, Booklist

"Jostein Gaarder introduced children to philosophy with his novel Sophie's World, and this little picture book looks as if it would do the same for younger children...a good starting point for discussion for infants and juniors." — The School Librarian (UK)

"[A]n excellent introduction to philosophy. Every question in this book is one that you could discuss for hours ... [A] true wonder for the conversations it will foster between you and your child." — Annie Farrell, Labyrinth Books

"[S]tunning works that will stir the imagination and peak the curiosity of young and old readers alike ... a marvel of art, story, and imagination." — The Gazette (Iowa)

"A lovely and probing book for older readers unafraid to ponder deep questions of philosophy." —Stephanie Tournas, Robbins Library, in Youth Services Book Review

"The questions are certainly provocative, begging for reflection." — Katrina Yurenka, Moderator, Youth Services Book Review

"Questions Asked is extraordinarily profound and encourages readers to seek answers to their own questions. Perfectly complemented by the beautiful illustrations by Akin Düzakin, author Jostein Gaarder provides a deeply philosophical work that will resonate with readers both young and old." — Kendal A Rautzhan

"I wonder, were these questions first asked by these authors? No, these questions have been asked for many, many years, from the day humans started living here. I even wonder, do only humans think about these questions, or do animals, too? My favorite question is, 'Do ghosts and angels exist?' And my answer is no because no one can prove that. At least, I think so. At the same time, I am afraid of darkness, too!! The illustrations are very good and blend with the reader's thoughts. The author did a great job of compiling all these questions. It is a great book–read and enjoy it." — Roshini, age 9, in Kids Book Buzz
Elsewhere Editions, 9780914671664, 72pp.
Publication Date: May 9, 2017
About the Author
   • JOSTEIN GAARDER is a Norwegian intellectual and the author of several novels, short stories and children's books. Gaarder often writes from the perspective of children, exploring their sense of wonder about the world. His best known work is the novel Sophie's World: A Novel About the History of Philosophy (1991). It has been translated into 60 languages; over 40 million copies have been sold.
   • DON BARTLETT has translated novels by many Danish and Norwegian authors, among them Pet Petterson, Roy Jacobsen, Ida Jessen, and Jo Nesbo. He is the translator of Karl Ove Knausgaard's New York Times bestselling MY STRUGGLE series.
or
Not Currently Available for Direct Purchase