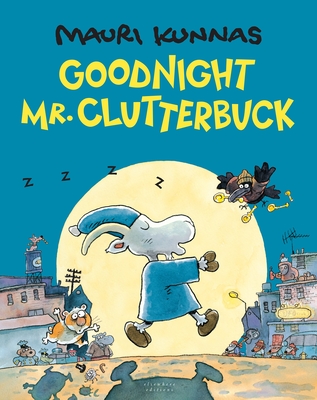 Goodnight, Mr. Clutterbuck (Hardcover)
Elsewhere Editions, 9780914671763, 36pp.
Publication Date: November 28, 2017
* Individual store prices may vary.
Description
From the award-winning Mauri Kunnas, Finland's most celebrated children's author, a hilarious picture book which follows the adventures of a sleepwalking goat. Mr. Clutterbuck, a mild-mannered goat, sleepwalks his way into unimaginable adventures: one night the lead singer of a rock band, the next an entrepreneur, Mr. Clutterbuck soon finds himself the hero of his town. A book that will send readers of all ages into fits of laughter.

Mr. Clutterbuck is blissfully unaware of his reputation as the busiest and loudest sleepwalker in town. Meek and mild-mannered when awake, at night Mr. Clutterbuck seeks thrills and adventures. Often the accidental instigator of chaos, Mr. Clutterbuck soon becomes the lead singer of a rock band, an entrepreneur, a disco king, and, eventually, the hero of his town. Goodnight, Mr. Clutterbuck is sure to captivate readers of all ages as we wonder what kind of situation Mr. Clutterbuck will find himself in next. With a lively tapestry of characters, including a motorcycle gang of cats and crocodiles, a hippo in charge of a sausage factory, and an ill-tempered bull at a theme park, Mauri Kunnas playfully shows what can happen when you step outside your comfort zone.
About the Author
Mauri Kunnas was born in 1950 in the small Southwestern Finnish town of Vammala. He began drawing early on, following his passion to the University of Art and Design in Helsinki. At first an illustrator of comic strips and political cartoons, Kunnas published his first children's book in 1975: The Book of Finnish Elves, which soon became a bestseller in Finland. Since then, Kunnas has written and illustrated over forty children's books. Among his many awards, he was the winner of the Finnish Picture Book Prize in 1992, the 2009 Lifetime Award for Positivity, and the 2013 State Award for Public Information for a distinguished life's work. In his spare time, Kunnas enjoys the Beatles, playing the guitar, films, and history - as well as watching thunderstorms.
Praise For Goodnight, Mr. Clutterbuck…
"The imaginative illustrations... are populated with so many different types of animals that even the varied residents in Richard Scarry's books pale in comparison...Complex storytelling with intricately detailed illustrations results in a tale that will engage those with the patience to follow a couple of story threads, as well as those who like illustrations stuffed to the brim." — Booklist

"This is a very fun story that kids will love. The exploits of Mr. Clutterbuck are finely and intricately detailed in the wonderful illustrations by Mauri Kunnas... Children (and adults) who like Sven Nordqvist and Marianne Dubuc should be delighted by this story." — Katrina Yurenka, Youth Services Book Review

"A sleepwalking goat dispels crises, wreaks gooey havoc, and solves a mysterious rash of disappearing spoons in this Finnish import... properly replete with silly details and side business... silly names and situations should keep older listeners hooked." — Kirkus Reviews

"The dense, cartoon-like illustrations are full of humorous detail. Readers will want to discuss their preferred ride at the amusement park. Would it be the Cyclone, the Gut Churner, the Shake 'n' Quake or the Turbo Whip? Translated from the Finnish, English readers can pour over the illustrations and enthuse about Mr. Clutterbuck's adventures." — School Librarian

"Goodnight, Mr. Clutterbuck is sure to captivate readers of all ages as we wonder what kind of situation Mr. Clutterbuck will find himself in next. With a lively tapestry of characters, including a motorcycle gang of cats and crocodiles, a hippo in charge of a sausage factory, and an ill-tempered bull at a theme park, Mauri Kunnas playfully shows what can happen when you step outside your comfort zone. [O]riginal, charming, and thoroughly entertaining... [U]nreservedly recommended for family, daycare center, preschool, elementary school, and community library picture book collections." — Children's Bookwatch, Midwest Book Review


Goodnight Mr Clutterbuck by Mauri Kunnas (Elsewhere Editions) is a hysterical tale of a sleepwalking goat. Every night he unknowingly leaves his bed and gets into all kinds of strange situations- leaving chaos in his wake and occasionally doing something crazy (like being the lead singer of a band!). This book feels different- the illustrations are intricate and full of life- there is so much to talk about as you read aloud.  A lovely, awesome quirky addition to your store's collection." - Kira Wizner, Proprietor, Merritt Bookstore, for NAIBA

"This humorous book has great illustrations that you could spend hours perusing." — Cracking the Cover

"Goodnight Mr. Clutterbuck is a hilarious story with riotous illustrations – a definite modern classic." —Outside In World

Praise for Mr. Clutterbuck's Seven Wonders:

"The illustrations swarm with multiple stories and images. Readers should take time to discover and appreciate them all. Not for nothing is Kunnas one of Finland's most beloved and successful children's writers... With the help of detailed illustrations and humoristic dialogs, Mr. Clutterbuck, eccentric and lovable, wins a place in the reader's heart." -- Katrin Czerwinka, Jugendbuch-Couch

"The illustrations alternate between stories in pictures and crowded scenes full of details, to be rediscovered thousands of times." -- Katharina Granzin, Perlentaucher