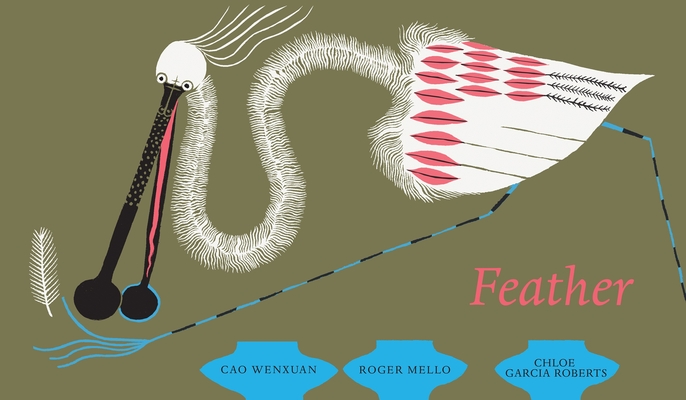 Feather (Hardcover)
Elsewhere Editions, 9780914671855, 48pp.
Publication Date: October 18, 2017
* Individual store prices may vary.
Description
A philosophical picture book from one of China's most celebrated children's authors and 2016 Hans Christian Andersen Award-winner Cao Wenxuan.

A feather is blown across the sky, meeting various birds along the way, and asking each one, "Do I belong to you?".

Cao Wenxuan tells the story of a single feather who is swept away on a journey of discovery and belonging. Encountering a variety of birds, from a kingfisher to a magpie, Feather is hopeful of meeting the bird she belongs to. Again and again, she is dismissed or ignored. Only when she sees that there is also beauty in being close to the earth does fate offer a reunion... Feather is sure to charm young children with a plot at once compelling, meditative, and quietly moving. Roger Mello's stunningly beautiful, dynamic illustrations will delight readers of all ages.
About the Author
Cao Wenxuan is a professor of literature at Peking University. He is a member of the China Writer's Association as well as the Vice-President of the Beijing Writer's Association. Wenxuan was nominated and received more than 40 awards, including the Hans Christian Andersen Award, the Chinese National Book Award by the General Administration of Press and Publication (GAPP), and the Golden Butterfly Award of the Tehran International Film Festival.

TRANSLATOR: Chloe Garcia-Roberts is the translator of Li Shangyin's Derangements of My Contemporaries: Miscellaneous Notes, which was awarded a 2013 PEN/Heim Translation Fund Grant, and author of The Reveal (Noemi Press, 2015). She lives in Boston and is the managing editor for the Harvard Review.
Praise For Feather…
"[A] lovely and, yes, profound tale. . . Mello's striking art makes each page a bright color, each avian portrait an evocative surprise. The book's box like design looks special, too." — The New York Times Book Review

"Mello's artwork offers countless delights: the plumage of the birds, contrasting backdrops that make the colors blaze, and liberal use of empty space. Cao's story has the timeless quality of a traditional folk tale. . . and it speaks to the way that desires have consequences that can't be calculated. It's not comfort Feather's search offers, but truth and beauty." — Publishers Weekly (starred review)

"Each bird takes center stage on the double-page spreads, a marvel of extravagant pattern against solid, vibrant backgrounds ... [A] Zen exploration of belonging and groundedness ... further enhanced by a sensitive translation and pithy, philosophical introductions by both creators—masterful storytelling." — Kirkus Reviews (starred review)

"[A] picture book with a very thoughtful, philosophical bent... strikingly gorgeous illustrations perfectly capture the variety of birds in the world including kingfisher, cuckoo, heron, wild geese, peacock, skylark and hawk... This is a book to hand to thoughtful readers." —Catherine Coyne, Mansfield Public Library, in Youth Services Book Review

"Feather is unlike any other picture book I've seen. . . nuanced and timeless in its nature. And then there are Roger Mello's striking illustrations." — Cracking the Cover

"Feather is a unique, beautiful take on the "Are You My Mother" story structure as a lost feather floats along, trying to find the bird it belongs to. Paired with Mello's spare yet rich and dynamic illustrations, this hopeful story of searching for belonging soars above the rest." — Hannah DeCamp, Avid Bookshop

"As Feather encounters different kinds of birds, it asks, "Am I yours?" The beautifully detailed illustrations, by the author of You Can't Be Too Careful!, accompany Feather on its disheartening journey to a violent climax. The book comes out in September in the US, but it's worth the wait." — Quartz

"The illustrations are beautiful and striking in their simplicity... A sweet story, reading like a folk tale, a story of finding where you belong and not giving up until you do." — Katrina Yurenka, Youth Services Book Review, starred review

"[A] lovely picture book by beloved Chinese children's author Cao Wenxuan. . . The stunning illustrations are by acclaimed artist Roger Mello." — Buffalo News

"Award-winning Chinese author Cao Wenxuan has written a moving, timeless story, with a sensitive translation by Chloe Garcia Roberts. Wenxuan is a natural storyteller and the meditative and sagacious tale meanders gently along combining with an essence of Zen philosophy – an understanding of the meaning of life... Brazilian artist Roger Mello's illustrations are striking... a bewitching book for all ages." —Outside In World