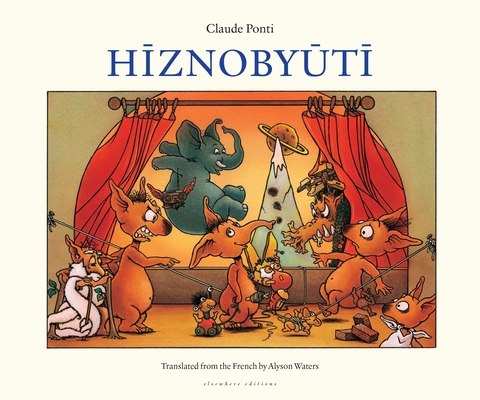 Hiznobyuti (Hardcover)
Elsewhere Editions, 9780914671909, 35pp.
Publication Date: May 22, 2018
* Individual store prices may vary.
Description
From one of France's most celebrated children's writers, the story of an "ugly duckling" who leaves his family to journey through a fantastical world. A tender and playful portrait of what it means to be unique.

When he is born, Hiznobyuti is not exactly handsome. In fact, his parents and siblings say, "He's no beauty!" They say it so often, Hiznobyuti assumes it is his name. Wherever he goes, only embarrassment and shame await him. Hiznobyuti hides himself away, working on his inventions, until one day he receives a message from the stars. After a fight with his family, Hiznobyuti decides to run away. On a beautiful adventure by himself, he learns the secrets of the universe: how to communicate with trees and birds, how to wake up the sun, and how to see himself for who he truly is - a hero! When he returns from his journey, Hiznobyuti family rejoices and apologizes for not understanding how beautiful and important he was to them all along.
About the Author
Claude Ponti is a French illustrator and children's author known for his inventive and playful use of words and the symbolic nature of his illustrations. His first book, L'Album d'Adèle, written for his newborn daughter, already displays the associative and dream-like presentation of children's interior lives that characterizes many of his works. Ponti was awarded the 2006 Sorcières Spécial prize for his contribution to literature, which now includes over seventy books of all types and for all ages.

About the Translator: Alyson Waters is a translator of modern and contemporary literary fiction, criticism and theory, as well as art history. Her book translations include works by Vassilis Alexakis, Louis Aragon, Daniel Arasse, René Belletto, Reda Bensmaia, Emmanuel Bove, Eric Chevillard, Albert Cossery, Yasmina Khadra and Tzvetan Todorov. She teaches literary translation workshops at Yale University and at New York University, and now at Columbia. In addition to her work as a translator and teacher, she has been the editor of Yale French Studies for almost twenty years. She is the translator of Claude Ponti's My Valley (Elsewhere Editions).
Praise For Hiznobyuti…
"An ugly monster sets out on a wonderfully strange journey of self-discovery... Ponti's illustrations—equally rich in warm feeling and surreal, precisely drawn figures and details—give the tale wings... He adventures, slaying a much-larger monster with one colossal sneeze, temporarily transforming himself into a tree, "communophoning" with the stars, and saving a dead planet by waking its sun (and a princess on a nearby satellite), among other heroic feats... Itzabyuti thruenthru." —Kirkus Reviews, starred review

"On a beautiful adventure by himself, he learns the secrets of the universe: how to communicate with trees and birds, how to wake up the sun, and how to see himself for who he truly is – a hero! When he returns from his journey, Hiznobyuti's family rejoices and apologizes for not understanding how beautiful and important he was to them all along." — The Children's Book Review

"Hiznobyuti is a truly fantastic children's book that every child should definitely check out!" ––Rabbit Tears Book Blog

"Alyson Waters did an amazing job at keeping the original flavour of the text while making it accessible in English... It's a beautiful story... Apparently Archipelago (the publisher) are planning to get more Ponti books translated in the near future and I couldn't be more excited! I think the world needs to know more about Ponti!" — Camille's Bookish Adventures blog

"Hiznobyuti's saga of discovery takes him past the challenges of a monster with hammers for hair, or the difficulty of "filling a bottomless pit with a leaky pot" for the old witch Sissyfus...Of course, when we finish, Dean says, "Read that again." And so we do.  Why not?  We're already settled into the couch.  As my grandson sits beside me, I feel the echo of my son or daughter when we'd read together, and the even more distant echo of my father, who taught me, with a single book, the power of a human voice channeling the delights of a story, and the surprise of imagination that held it all together." —Philip Graham, The Millions

Praise for My Valley (Elsewhere Editions):

"A mix of comical vignettes and broad vistas illustrate an account of the lives and misadventures of a clan of tiny Twims . . . Like Poochie-Blue, visitors to the valley will be in no hurry to leave." --Starred Review, Kirkus

"Ponti's beautiful, intricate illustrations contain strange details hinting at larger stories. The guileless narrative sounds like it came directly from the brain of a child with a vivid imagination..." -- Sarah Hunter, Booklist

"My Valley marks a particularly exciting addition to the world of translated literature... lush with colorful and stark imagery that readers of all ages will find infinite secrets in. This is a truly unique addition to any storybook collection." --Kevin Elliott, 57th Street Books



"Claude Ponti, in my eyes, is one of the most essential authors in the whole of children's literature. His bursting creativity and the wealth of his images incite the almost systematic pleasure of children. The Pontian universe, with its many cultural and artistic references, its themes and its language distinctive of the world of childhood, its originality in its forms, colors, typography, and the arrangement of its scenes, presents an offering of narratives that strongly engage children's emotions and which meet them on the horizon of their expectations. Here children often find the power that a new piece of knowledge or the control of a word bring, which allows them to influence their destiny just a little bit more."
-- Annie Dupin