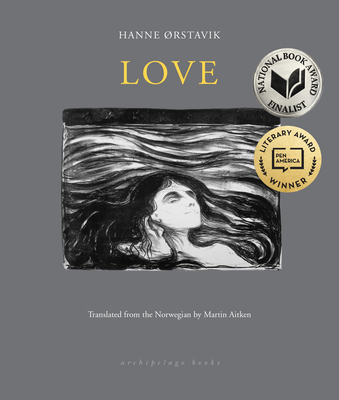 Love
Paperback

* Individual store prices may vary.
Description
WINNER OF THE 2019 PEN TRANSLATION PRIZE

FINALIST FOR THE NATIONAL BOOK AWARD FOR TRANSLATED LITERATURE

A mother and son move to a village in northern Norway, each ensconced in their own world. Their distance has fatal consequences.

Love is the story of Vibeke and Jon, a mother and son who have just moved to a small place in the north of Norway. It's the day before Jon's birthday, and a travelling carnival has come to the village. Jon goes out to sell lottery tickets for his sports club, and Vibeke is going to the library. From here on we follow the two individuals on their separate journeys through a cold winter's night - while a sense of uneasiness grows. Love illustrates how language builds its own reality, and thus how mother and son can live in completely separate worlds. This distance is found not only between human beings, but also within each individual. This novel shows how such distance may have fatal consequences.
Praise For Love…
Winner of the the 2019 PEN America Translation Prize
Finalist for the 2018 National Book Award for Translated Literature

"A trim and electrifying novel  . . . Ørstavik's mastery of perspective and clean, crackling sentences prevent sentimentality of sensationalism from trailing this story of a woman and her accidentally untended child. Both of them long for love, but the desire lines of the book are beautifully crooked. Jon wants his mother, and to be let in out of the cold...the cold that seems a character throughout this excellent novel of near misses." — Claire Vaye Watkins in The New York Times Book Review

"Love is Ørstavik's strongest book." --Karl Ove Knausgaard

"[A] haunting masterpiece... The deceptively simple novel is slow-burning, placing each character into situations associated with horror—entering an unfamiliar house, accepting a ride from a stranger—and the result is a magnificent tale." — Publishers Weekly (starred review)

"Prizewinning Norwegian Ørstavik follows the parallel courses of a single mother and her 8-year-old son during a night that moves unrelentingly toward tragedy... A nightmarish sense of impending doom hangs over these carefully detailed, tightly controlled pages... icy cold to the core." —Kirkus Reviews

"[A] creeping sense of unease is racheted up by the cool, lucid prose and how the paragraphs shift between mother and son, clarifying how close they should be and how close they aren't... Multi-award winner Ørstavik offers an unsettling read that most will enjoy." —Barbara Hoffert, Library Journal

"Ørstavik's ingenious device is to toggle between their two consciousnesses from one paragraph to the next, so that their narratives run as though on parallel train tracks, never to meet, even as they lie cheek to cheek. Layers of unremarkable everyday intimacy and acres of emotional distance are compressed between the lines ... Ørstavik has found fertile territory here in which to dig into the raging solipsism of the inner life ... We are all sealed worlds, Ørstavik seems to suggest; it's dark outside, and it's dark inside too." — Guardian

"[An] edgy, elegiac and beautifully written novel. . . Over the course of the evening, the two characters' narratives work together to expose the vulnerability of their affections; they mistake and misinterpret each other's intentions, just as they miss each other driving by in separate cars on a lonesome road. What you think will happen doesn't—and what does breaks your heart." — Oprah.com

"[Q]uite simply, exceptional...  If this book is an indication of Orstavik's talent, then translations of the rest of her work can't come soon enough... [LOVE] is a short, suspenseful winter's tale crafted in beautifully spare and precise prose. It can be read in a few hours but its singular effects haunt the reader for a long time afterward." —Malcolm Forbes, The Minneapolis Star Tribune

"Building up to a shattering culmination...that stays with the reader long after closing the book, Love is as haunting as it is moving, stunningly presented in Martin Aitken's discerning translation. Although originally published in Norway more than 20 years ago, the novel retains a timeless brilliance through its portrayal of missed connections and failures to communicate beyond surface levels." — 3:AM Magazine

"Love is a deep and vibrantly alive novel... beautifully devastating... This is not your typical love story but rather the sharp-edged account of a boy whose need for attention from his heedless mother is heartfelt and full of yearning."  — World Literature Today

"...driven home for American readers thanks, in large part, to the translation, by Martin Aitkin. Aitkin's translation is economic, delicate, and pliant, making the narrative shifts between Vibeke and Jon seem effortless, dreamlike." — Entropy

"Love is a beautiful novella of beguiling simplicity, and Martin Aitken's translation has brought it over into an English that is both familiar and alien." ––Erik Noonan, Asymptote

"[I]n Love, the closeness of the perspectives, the cramming of them together, as if the mother and son are one person, and yet clearly not, feels less about narrative, and more about the limitations of love. We think we know another person, we feel settled in another person, and yet, perhaps every other consciousness is entirely a mystery. That's the power of this particular book. The tiny emotional and atmospheric shifts are often barely perceptible, and yet they add up to much more." —Anita Felicelli, Los Angeles Review of Books 

"Ørstavik brings us remarkably close to both her characters, shifting effortlessly between them in stark, lucid prose ... Ørstavik's twinned themes of love and neglect manifest on every page. Her style, brilliantly translated by Martin Aitken, is quiet and mesmeric, aligning us with divorcee Vibeke and, particularly, with her son Jon, on the eve of his ninth birthday ... for all the potential dangers of this one night, the book's achievement is that we come to the end of it seeing a wider picture." — Sarah Gilmartin, Irish Times

"Ørstavik invites the readers into her two characters' innermost thoughts, seamlessly switching back and forth between their perspectives— often within the same paragraph. Their stories unfold breathlessly close together on the page.... a creeping sense of tragedy brews within the story...Though Love is only one hundred and twenty-five pages, its careful craft and beautiful details make it worth savoring—right to its haunting but inevitable conclusion." ––Samantha Apaer, Zyzzyva

"[Love is] a remarkable novel that will linger long after." —SF Gate

"[T]here is an inescapable and escalating sense of anxiety as the story unfolds... In many ways Loveseems to be taking place within a threshold, an in-between time, a twilight & dawnlight moment that may or may not be completely real... [A] dreamlike adventure... poised at the brink of a looming tragedy." —Michelle Bailat-Jones, Necessary Fiction

"Hanne Ørstavik's exquisite Love, so elemental in its materials and technique, embodies a profound recognition – namely that every search for clarity and connection must proceed through the full awareness of what constrains us." —Ron Slate, On the Seawall

"Love's LoveFani Papageorgiou, Hyperallergic

"Ørstavik carefully blends the narratives so the words and actions of one character reflect or bleed into the other. . . What could be a simple family story is instead filled with foreboding and anxiety, showcasing the marvels and dangers pulsating just below the surface in our everyday lives. Longing and hopefulness fills these brief pages, leaving readers with a sense of wonder for the average: how a day can be so filled with newness and potential, with menace and tragedy." — The Gazette (Iowa)

"Love is effectively atmospheric... neatly textured with its back and forths... A disturbing little read, nicely, darkly told." —Michael Orthofer, The Complete Review

"In this swift, elegantly constructed novel, Hanne Ørstavik masterfully conveys a sense of entwined dread and longing that doesn't let up for a second. From the opening page to the powerfully moving finale, this tale of a mother and son is riveting. The characters' inner lives are illumined by a beautiful eeriness, and the translation's precision and clarity do justice to the novel's intensities. Read it: it'll bat around your brain for a long time afterward." — Martha Cooley, author of The Archivist and Guesswork

"What was so striking to me about this slim novel was how quiet and circumspect it was given the emotional gut punch it delivered. 'Deceptive' is right, sneaky even, and at the risk of falling into the trap of stereotyping Norwegian lit, the power of quietly mushrooming foreboding is strong with Ørstavik. As I happen to be flying over the dark and snowy north of Norway as I write this, looking out my window at the icy fjords below, I feel the creep, even at 35,000 feet." — M. Bartley Seigel, Words Without Borders

"LOVE is hard, clear, merciless, and utterly compelling – a prism of the many daily ways we miss each other." —Rebecca Dinerstein, author of The Sunlit Night

"Point of view works like a spot of living light in this slender book, with deft perspective shifts occurring between Vibeke, a hardworking, distracted mother, and Jon, her curious, lonely young son, on nearly every page. Mother and son are each on a separate journey, but the reader watches their whole shared life, as memories are folded expertly between breaths in Orstavik's urgent, visually vivid present tense--what a lovely shape. Nothing is wasted. And I'm astonished by the precision and poetry of Martin Aitken's translation from the Norwegian." — Gina Balibrera, Literati Bookstore

"You can give it as a gift to anyone, and they will be absorbed." --Aftenposten

"Ørstavik describes these tense hours with a fine feeling for language. The tone is quiet, the words believable, the story captivating and engaging without turning into a tearjerker about broken family ties." --Morgenbladet

"A wonderful and poetic book about loneliness and the search for love." --La Gazette Nord-Pas de Calais

"Simple and subtle, meditative and gripping." --L'Humanité

"Love explores the insurmountable distance between people, the elementary impenetrability of them, and tells us about the difficulty of reading the signals of others. In short, dry sentences, Ørstavik relates all the postponed, the possibilities that hang over our lives." --Avant-critiques

"A wonder of minimalist prose. . . Curious, and simultaneously a joy, emerging out of such a literary, linguistic power." — Kristina Maidt-Zinke, Süddeutsche Zeitung

"Her style is shy, almost minimalistic; Drama plays out underneath the surface. . . It is namely masterful. . . Perhaps Love, which appeared in 1997, is even a kind of pioneer that contemporary Norwegian literature has followed since then. Everything is inside: loneliness, yearning, self-doubt – and the desperate, but unending will to change something." — Peter Urban-Halle, Neue Zürcher Zeitung

"This book, this small story by Hanne Ørstavik, binds one, and when one finishes reading it, doesn't let one go so quickly." —Cornelia Wolter, Frankfurter Neue Presse + Frankfurter Rundschau
 
"…well-constructed, linguistically brilliant, and such a cruel book that it leaves a cinematic shuddering in the mind." — Martina Sander, Besser Nord als Nie!

"Hanne Ørstavik's literary significance grows from novel to novel... An existential novel dealing with both the heaviness and lightness of language, written with impressive strength and courage... Rarely does one come across such a perceptive analytical mind as Hanne Ørstavik. She gives nothing away for free, there is no overdriven emotion, no sentimentality nor pandering to her public. The story's concept overrides everything, all the layers of the onion are peeled away until we come to the heart of the question. Hanne Ørstavik never makes it easy for herself or the reader in her rigorous treatment of these existential problems. But thanks to a language rich in its precision, with no loss of simplicity, it becomes an experience to follow her to her conclusion. One knows that one has read something substantial which one would not wish to be without." --Dagbladet
Archipelago, 9780914671947, 180pp.
Publication Date: February 13, 2018
About the Author
With the publication of the novel CUT in 1994, Hanne Ørstavik (b. 1969) embarked on a career that would make her one of the most remarkable and admired authors in Norwegian contemporary literature. Her literary breakthrough came three years later with the publication of LOVE (Kjærlighet), which in 2006 was voted the 6th best Norwegian book of the last 25 years in a prestigious contest in Dagbladet. Since then the author has written several acclaimed and much discussed novels and received a host of literary prizes.

About the Translator: Martin Aitken is the acclaimed translator of numerous novels from Danish and Norwegian, including works by Karl Ove Knausgaard, Peter Høeg, Jussi Adler-Olsen, and Pia Juul, and his translations of short stories and poetry have appeared in many literary journals and magazines. In 2012 he was awarded the American-Scandinavian Foundation's Nadia Christensen Translation Prize.