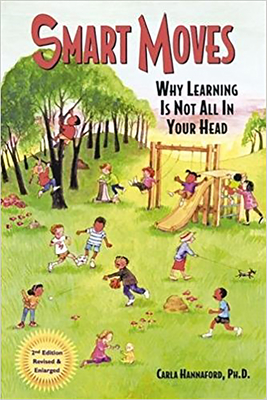 Smart Moves
Why Learning Is Not All In Your Head, Second Edition
Paperback

* Individual store prices may vary.
Description
Neurophysiologist and educator Dr. Carla Hannaford brings the latest insights from scientific research to questions that affect learners of all ages. Examining the body's role in learning, from infancy through adulthood she presents the mounting scientific evidence that movement is crucial to learning.Dr. Hannaford offers clear alternatives and remedies that people can put into practice right away to make a real difference in their ability to learn.She advocates more enlightened educational practices for homes and schools including: a more holistic view of each learner; less emphasis on rote learning; more experiential, active instruction; less labeling of learning disabilities; more physical movement; more personal expression through arts, sports and music; less prescribing of Ritalin and other drugs whose long term effects are not even known.
Great River Books, 9780915556373, 272pp.
Publication Date: September 18, 2007
About the Author
Carla Hannaford, Ph.D. is a biologist and award winning educator with more than thirty years of teaching experience. Since 1988, she has been an internationally recognized educational consultant presenting lectures and workshops to thirty countries. Her books are available in nine different languages.