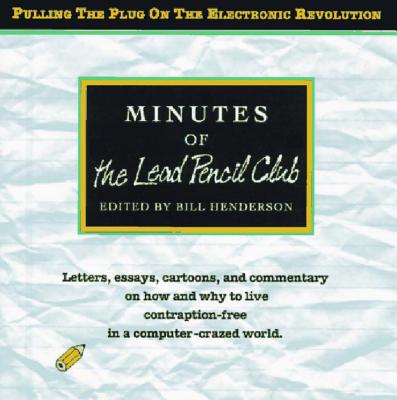 Minutes of the Lead Pencil Club (Paperback)
Second Thoughts on the Electronic Revolution
Pushcart Press, 9780916366209, 235pp.
Publication Date: December 17, 1996
* Individual store prices may vary.
Description
This collection will reveal to you what electronic madness has wrought in our lives and society. Through letters, essays, news clips, poems, cartoons, and testimonials, the members of the Lead Pencil Club suggest how you can restore mindfulness, sanity, and simplicity to your life and the lives of your children.
Have you just junked your most recent, instantly obsolete, computer? Are you thinking of buying your first computer? Do you find that your business and personal life have been invaded by a bewildering array of electronics--from voice and E-mail to faxes and televisions with hundreds of channels to the wildly hyped Internet and World Wide Web? Do you suffer from info-overload? Do you sometimes think we have lost our souls in a constant quest for speed, entertainment, and convenience?
The Minutes of the Lead Pencil Club
is a dynamic record of an ongoing meeting of minds from as far away as Tasmania, India, and Austria and as close to home as California and New York. Contributors include Russell Baker, Neil Postman, David Gelernter, Wendell Berry, Sven Birkerts, Mark Slouka, Clifford Stoll, Doris Grumbach, Andre Codrescu, and others, with comments by John Updike, Robert Hughes, Henry David Thoreau, E. Annie Proulx, Alvin Toffler, Dave Barry, Edmund Morris, Farley Mowat, Ted Koppel, Nicholson Baker, Paul Goodman, Gary Snyder, Kirkpatrick Sale, and Lawrence Ferlinghetti, plus letters and news items from around the world.
About the Author
Bill Henderson is the founder and editor of the Pushcart Prize. He received the 2006 National Book Critic Circle's Lifetime Achievement Award and the Poets & Writers / Barnes & Noble Writers for Writers Award. He is also the author of several memoirs, including All My Dogs: A Life. The founder of the Lead Pencil Club, Henderson lives on Long Island and In Maine where he runs the Pushcart bookstore – "the world's smallest bookstore."
or
Not Currently Available for Direct Purchase