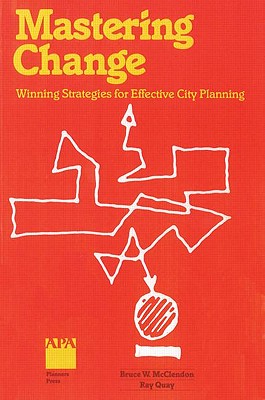 Mastering Change: Winning Strategies for Effective City Planning (Paperback)
Winning Strategies for Effective City Planning
Planners Press, 9780918286482, 287pp.
Publication Date: January 1, 1988
Description
How to develop a winning game plan for personal and professional success for planners is this book's premise. The authors identify 25 strategies for increasing effectiveness and cover such topics as to do more with less, how to become more innovative and entrepreneurial, and why and how to be a leader rather than a manager. To survive, planners must become less concerned with theory and more concerned with effectiveness and implementation. McClendon and Quay show planners how to master change--to use it, and to control it to their advantage. That doesn't mean abandoning the traditional ideals of the profession. Instead, the authors say that planners must learn how to win in the political process. This book gives strategies that will help get the job done. The authors interviewed hundreds of planners to identify the most common traits of successful, effective planners and planning organizations. Mastering Change tells you how to use these tested ideas and techniques and transfer them into a series of innovative proposals, tactics, and strategies for more effective planning. This book is for every planner who wants to become the master, not the victim, of change.
Advertisement