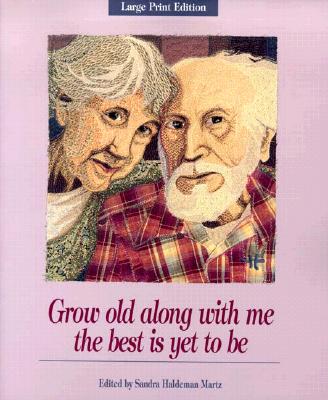 Grow Old Along with Me
The Best is Yet to Be
Paperback

* Individual store prices may vary.
Other Editions of This Title:
Hardcover (9/21/1996)
Paperback (1/1/2010)
Description
In the enriching tradition of her million-copy bestseller, When I Am an Old Woman I Shall Wear Purple, Sandra Martz returns with another celebration of aging: Grow Old Along with Me -- The Best Is Yet to Be. Both men and women explore the daily nuances of growing older in this outstanding anthology of short fiction, photographs, and poetry. These voices speak straight to the hearts of the vast baby boomer generation, reflecting their personal experiences as they turn fifty, and exploring the future terrain of old age.
Encompassing a variety of subjects, the thought-provoking revelations that comprise Grow Old Along with Me -- The Best Is Yet to Be combine humor, honesty, longing, compassion, wisdom, and courage to create a vibrant literary mosaic of humanity. From grandmothers coaxing their muscles in dance class to fathers challenging sons in the game of baseball and life, from a love struck widow seeking predictions from a mysterious fortune teller to a woman tenderly reassuring her husband that she has "no hunger for young flesh", the voices in this unique volume reaches beyond the page to touch our hearts, enrich our souls, and transform our perception of aging while reminding us that it is an exciting time to be older. Common threads run through this collection: the need to be loved, the importance of family connections, an acceptance of the aging process.
The photographs are beautiful and courageous, tender and vigorous, and very joyful. They stand alone as visual poems, complementing and illuminating the text. The work would not be the same without them.
Papier-Mache Press, 9780918949967, 216pp.
Publication Date: September 1, 1996
or
Not Currently Available for Direct Purchase