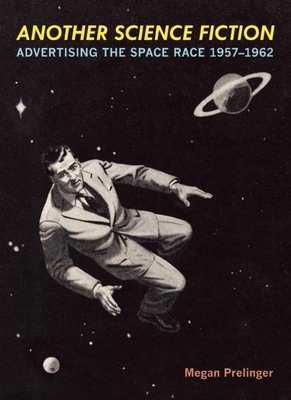 Another Science Fiction
Advertising the Space Race 1957a-1962
Paperback

* Individual store prices may vary.
Description
The late 1950s and early '60s were the golden age of science fiction, an era when the farthest reaches of imagination were fed by the technological breakthroughs of the postwar years. While science fiction writers expressed the dreams and nightmares of the era in pulp print, real-life rocket engineers worked on making space travel reality. The imaginations of many Cold War scientists were fed by science fiction literature, and companies often promoted their future capabilities with fantastical, colorful visions aimed at luring young engineers into their booming workforce. In between the dry articles of trade journals, a new visual vernacular sprang up. Aerospace industry ads pitched the idea that we lived in a moment where anything was possible -- gravity was history, and soon so would be the confines of our solar system. Another Science Fiction presents nearly 200 entertaining, intriguing, inspiring, and mind-boggling pieces of space-age eye candy.
Praise For Another Science Fiction: Advertising the Space Race 1957a-1962…
"A brilliant tour through the iconography and literature of America's grandest corporate dreamtime, the Space Age." —William Gibson, author of Neuromancer and Pattern Recognition

"I wish I had this book when I started Mad Men. This is exactly what I look for, a concise visual-historical reference of mid-century advertising. Megan Prelinger has uniquely and beautifully taken us on a trip back to space." —Gay Perello, Prop Master for Mad Men

"Stupendous." —Jonathan Lethem, author of Motherless Brooklyn and The Fortress of Solitude

"To the author of this remarkable work must go well-deserved laurels for rescuing rocket/space ad artwork from virtual obscurity. Megan Prelinger's book is a treasure that should find a worldwide readership of space historians, lovers of space art, and all who seek to understand the evolution of humanity's transition to a space-faring species." —Fred Ordway, former member of the Wernher von Braun rocket team and consultant to Stanley Kubrick for 2001: A Space Odyssey
Blast Books, 9780922233359, 240pp.
Publication Date: April 13, 2010