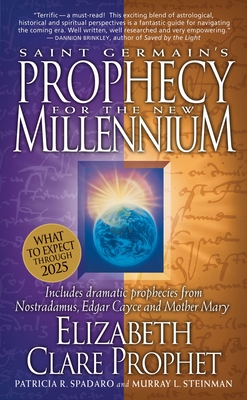 Saint Germain's Prophecy for the New Millennium
Includes Dramatic Prophecies from Nostradamus, Edgar Cayce and Mother Mary
Paperback

* Individual store prices may vary.
Description
Nostradamus, Edgar Cayce, Mother Mary and Saint Germain reveal that the period we are entering is unique--both in its opportunity for spiritual and technological progress and in its potential for war, turmoil and even cataclysm. They also reveal that prophecy is not set in stone.

This timely work shows us how to make our future a brighter day. First, it explores the most compelling prophecies for our time, including new interpretations of the celebrated quatrains of Nostradamus. Then it introduces us to a high-frequency spiritual energy that can bring balance, harmony and positive change into our lives.

The dramatic insights and spiritual techniques revealed in this book will help you shape the future you want.
Summit University Press, 9780922729456, 396pp.
Publication Date: May 1, 1999