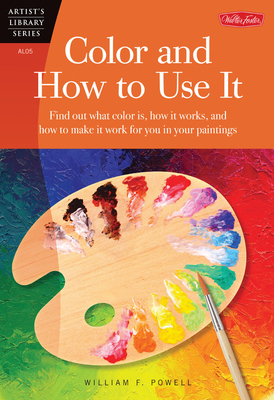 Color and How to Use It: Find Out What Color Is, How It Works, and How to Make It Work for You in Your Paintings (Paperback)
Find Out What Color Is, How It Works, and How to Make It Work for You in Your Paintings
Walter Foster Publishing, 9780929261058, 64pp.
Publication Date: January 1, 1984
Description
From the most delicate pastel tint to the boldest bright hue, color is a vitally important tool to you as an artist. Whether your preferred medium is acrylic, oil, or watercolor, a strong understanding of color and its applications is essential.
About the Author
William F. Powell studied at the Art Student's Career School in New York; Harrow Technical College in Harrow, England; and the Louvre Free School of Art in Paris, France. His work has been represented in major galleries and reproduced in the form of illustrations, prints, and limited-edition collector's plates. He has been professionally involved in fine art, commercial art, and illustration for more than 45 years. His experience as an instructor includes oil, watercolor, acrylic, gouache, colored pencil, and pastel with subjects ranging from landscapes and seascapes to still life, portraiture, and wildlife. He holds awards for the technical side of his art, which has been used in major space and environmental programs.
Advertisement