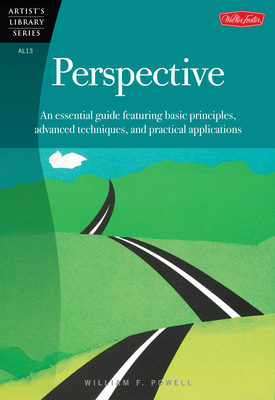 Perspective (Paperback)
An essential guide featuring basic principles, advanced techniques, and practical applications (Artist's Library)
Walter Foster Publishing, 9780929261133, 64pp.
Publication Date: January 1, 1989
Other Editions of This Title:
Library Binding (6/9/2011)
* Individual store prices may vary.
Description
Whether you specialize in drawing - even cartooning and animation - or prefer media such as acrylic, oil, pastel, or watercolor, a good knowledge of perspective is invaluable. It is the foundation of all great paintings and drawings, no matter what medium. Perspective shows you everything you need to know to make objects look three dimensional. Practice the methods of measuring and dividing areas proportionately; then learn how we perceive depth and distance, and how to render it correctly on paper or canvas.

You will learn the basics and beyond, covering concepts like foreshortening; cast shadows; reflections; and even one-, two-, and three-point perspective. And once you have a good grasp of the basics, it's easy to graduate to more complex and irregular forms. This comprehensive guide will show you how!
About the Author
William F. Powell studied at the Art Student's Career School in New York; Harrow Technical College in Harrow, England; and the Louvre Free School of Art in Paris, France. His work has been represented in major galleries and reproduced in the form of illustrations, prints, and limited-edition collector's plates. He has been professionally involved in fine art, commercial art, and illustration for more than 45 years. His experience as an instructor includes oil, watercolor, acrylic, gouache, colored pencil, and pastel with subjects ranging from landscapes and seascapes to still life, portraiture, and wildlife. He holds awards for the technical side of his art, which has been used in major space and environmental programs.