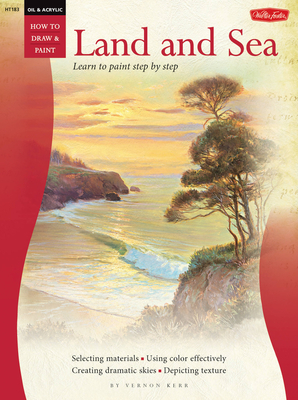 Oil & Acrylic (Paperback)
Land and Sea: Learn to paint step by step (How to Draw & Paint)
Walter Foster Publishing, 9780929261683, 32pp.
Publication Date: January 1, 2003
* Individual store prices may vary.
Description
"
Whether your subject is the land or the sea, painting in oil is a delightful pursuit! Vernon Kerr invites you into his artistic world as he teaches you how to re-create an array of beautiful seascapes and landscapes in oil. With tips on choosing the best painting surfaces and materials, the book explains the artistÆs personal approach to painting. Easy-to-follow, step-by-step instructions explain how to paint backlit subjects, how to use colors effectively, how to prepare painting surfaces, and more, with special attention given to painting sunsets, snow, leaves, sand, rocks, clouds, and other natural elements. Meanwhile helpful hints on composition, perspective, texture, and contrast help make this an essential addition for every artistÆs library.
"
About the Author
Vernon Kerr was born in Bellevue, Pennsylvania, in 1938. Recognizing his young son's talent, his father secured an apprenticeship for him with Leon Franks. Vernon studied with Franks for four years and was an accomplished artist by age 23. His first taste of fame occurred when he was the youngest artist to be published by the International Art Publishing Company. He worked as a naval illustrator while stationed in Japan during his time in the U.S. Navy and had also won numerous awards for his portraits, marines, and still lifes before his move to Laguna Beach, California, in 1959. Vernon was a professional artist for 26 years and was internationally known for his seascapes and landscapes. He taught at his own school in Laguna Beach and Coeur d'Alene, Idaho, for 15 years. He once said, "Painting is not fun unless I am learning something new, and nature is my greatest teacher." Vernon passed away in 1982 at the age of 44.
or
Not Currently Available for Direct Purchase