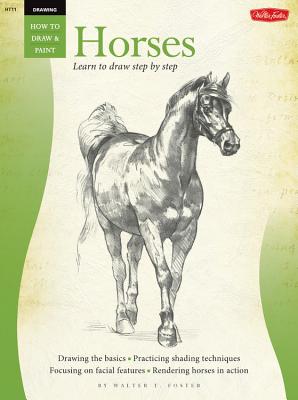 Drawing (Paperback)
Horses (How to Draw & Paint)
Walter Foster Publishing, 9780929261720, 32pp.
Publication Date: January 1, 2003
Other Editions of This Title:
Paperback (1/1/2003)
Paperback (1/1/2003)
Paperback (1/1/2003)
Paperback (1/1/2003)
* Individual store prices may vary.
Description
With assistance from Michele Maltseff, artist Walter T. Foster shows you how to render a variety of different horse breeds in pencil, with tips on adding touches with charcoal, crayon, and brush and ink. In this step-by-step book, he explains not only a number of drawing techniques and special effects but also his own method of developing a drawing to its fullest. You will learn about various breeds and their proportions, starting with their heads and then progressing to full bodies. And in addition to helpful drawing instruction, Horses also contains a wealth of beautiful equine drawings you can both copy and admire! ItÃ?s a fabulous addition to any artistÃ?s drawing reference library.
About the Author
Walter T. Foster was born in Woodland Park, Colorado, in 1891. In his younger years, he worked as a sign painter and a hog medicine salesman. He also performed in a singing and vaudeville act. Walter invented the first postage-stamp vending machine and drew political caricatures for several large newspapers. He's well known as an accomplished artist, art instructor, and art collector. In the 1920s, while running his own advertising agency and instructing young artists, Walter began writing self-help art instruction books. The books were first produced in his home in Laguna Beach, California, where he wrote, illustrated, and printed them himself. In the 1960s, as the product line grew, he moved the operation to a commercial facility, which allowed him to expand the company and achieve worldwide distribution. Walter passed away in 1981, but he is fondly remembered for his warmth, dedication, and unique instruction books.
or
Not Currently Available for Direct Purchase