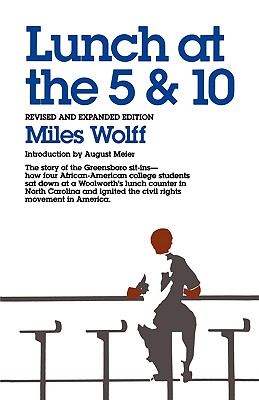 Lunch at the 5 & 10 (Paperback)
Ivan R. Dee Publisher, 9780929587318, 208pp.
Publication Date: August 1, 1990
* Individual store prices may vary.
Description
Lunch at the 5 & 10 is the story of the Greensboro sit-ins--how four African-American college students sat down at a Woolworth's lunch counter in North Carolina and ignited the civil rights movement in America. The year was 1960, but the racial sensibilities of Americans were light years removed from what they are today. Mr. Wolff's even-handed account of this pivotal event in our race relations has been widely praised since it was first published in 1970. In this new edition, the author adds a new conclusion, written after the 30th anniversary commemoration of the event where the Greensboro Four met once again. August Meier's introduction places the Greensboro sit-in in historical context and explains its importance in the course of the civil rights movement. "A remarkable account...reads like a novel. Wolff has recaptured these days with a sense of their drama, with deft characterizations of the principals, and with a sure feeling for the mood....An extraordinary accomplishment."--Book World.
About the Author
Miles Wolff, the son of a newspaperman, is president of the Durham Bulls Baseball Club and publisher of Baseball America. August Meiers, University Professor at Kent State University, is the distinguished historian of race relations in America and author of many important books in the field.