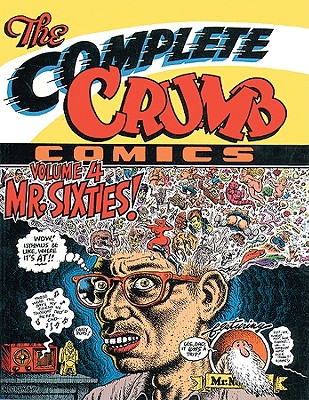 The Complete Crumb Comics Vol.4 (Paperback)
Mr. Sixties!
Fantagraphics Books, 9780930193799, 144pp.
Publication Date: June 1, 2009
Other Editions of This Title:
Paperback (9/1/2009)
* Individual store prices may vary.
Description
The Complete Crumb Comics Vol. 4: Mr. Sixties continues the multi-volume series comprising the complete works of the legendary cartoonist R. Crumb, one of America's most original, trenchant, and uncompromising satirists. The series includes the earliest, heretofore unpublished comic strips, as well as his sketchbooks, underground comix, dramatic and autobiographical strips, and his classic cartoon creations Fritz the Cat and Mr. Natural. In this volume: Zap #0 ("Keep On Truckin' "), Crumb's work from the East Village Other and Yarrowstalks, plus much rare art, some of Crumb's long-lost American Greetings cards from the '60s, and more.

"I figured it out somehow -- the way to put the stoned experience into a series of cartoon panels. I began to submit LSD-inspired strips to underground papers... not for pay... never gave it a thought... but they loved them. These 1967 strips of mine contained the hopeful spirit of the times, drawn in a more lovable 'bigfoot' style. The stuff caught on. They wanted more. Suddenly I was able to churn it out... late that summer one of the underground paper publishers asked me to do an entire issue of his paper Yarrowstalks (corny hippy spiritual stuff -- 'yarrowstalks' are what they used to throw the 'I Ching'). This went over so well that he suggested I draw comic books and he would publish them. This was a thrilling idea to me -- a dream come true..."--R. Crumb, from his introduction to this volume.
or
Not Currently Available for Direct Purchase