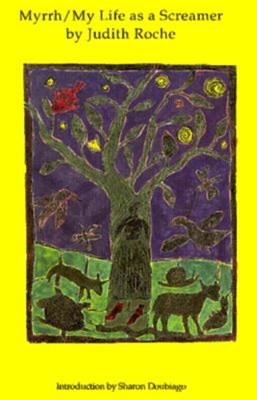 Myrrh/ My Life as a Screamer
Paperback

* Individual store prices may vary.
Description
From the introduction: Roche follows the orders of the poem rather than making the poem bend to her will. When one realizes how profoundly Myrrh comes from the practice on all levels, how successfully she pulls off one of the riskiest of endeavors.one begins to grasp... a highly original, courageous, mature, beautiful singularity of Voice, Theme, Sound, Image, etc., making up a brilliant whole.-- Sharon Doubiago
Praise For Myrrh/ My Life as a Screamer…
"In Judith Roche's powerful evocations of her griefs and amazements the sacred substance of myrrh serves as central symbol for the healing of her perplexities. For myrrh that 'is measured in tears' can transform embittered sorrow into a sweetness of joy for a poet who feels an 'angel beating heavy wings at all my openings.' Nowhere is this more vivid than in a long poem, 'My Life as a Screamer,' where shrieks of fear and defiance gradually shift into cries of exuberance. Through realms of pattern and scatter, dream and rebellion, this fervent book travels on supple lines and disciplined focus. The Helen sequence alone achieves memorable beauty when the poet finds splendor in her own myth: 'My blood crystallizes into stone. I am form for flames.'" — James Broughton
"Judith Roche remembers, as few poets today do, poetry's ancestral roots in myth, magic, and melos. Like myrrh, these poems are bitter, erotic, a potent female gift. Recalling the 'silence between the notes' that could signify either rapture or the silencing of the witch, who is every woman, the poems rise at the book's close to the long, long-repressed scream that can finally crest 'in pure exuberance.'" — Alicia Ostriker
Black Heron Press, 9780930773304
Publication Date: January 1, 2010
About the Author
All Fire All Water is Judith Roche's fourth poetry collection. Her third, Wisdom of the Body, won an American Book Award. She has published widely in various journals and magazines, and has poems installed on several public art projects in the Seattle area. She edited First Fish, First People: Salmon Tales of the North Pacific Rim, which also won an American Book Award. She has conducted workshops around the United States and has taught at several universities. She currently teaches at Richard Hugo House Literary Center. She is a Fellow in the Black Earth Institute, a progressive think tank exploring the links between nature, spirit, and social justice.
or
Not Currently Available for Direct Purchase