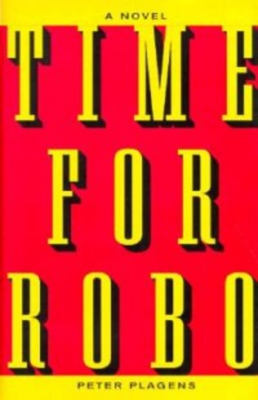 Time for Robo (Hardcover)
Black Heron Press, 9780930773540, 303pp.
Publication Date: January 1, 2010
* Individual store prices may vary.
Description
A painting that alters itself, or is altered, while the artist sleeps. A computer that may be God and quacks like a duck. A basketball forward who disappears in the middle of a drive, then reappears. An evangelist who screams himself out of the moment as his wife and childrean are blown to smithereens by a bomb dropped from a balloon.The evangelist's former wife who becomes Axis Sally. A cult of computer programmers. In this robust fiction debut, Peter Plagens, the art critic for Newsweek magazine and himself a painter, has written a novel about time, perception, the nature of reality, and characters who transform themselves or are transformed as the painting is transformed. In theme and technique, Time for Robo invotes comparison with Gravity's Rainbow and Slaughterhouse Five.
Praise For Time for Robo…
"…[W]hat you'd expect from a guy whose first Newsweek piece compared Cezanne to Ernest Tubb — a surreal waltz across space, time and cultures." — Newsweek
"Aaaahhhhhhhhhhhhh!!!!!! Stop! Stop! Stop! Stop! As does Jack Kerouac's Old Angel Midnight, Plagens's first novel opens with God/the Universe/the Ghost/the Big Enchilada pouring HimHerself out onto the page in Quack strange rhyming riverrun past Eve and Adam's tumbles (if Quack language, it's Friday night in the cosmos, and since first-novelist and painter Plagens is Newsweek's art critic, you can count on him to fancy up the King's English with slippery opening storyless ultralonggliding Beckettian paragraphs that struggle toward some kind of focus and a tale to tell. The Ghost/Billy Lockjaw leaves Manhattan for hometown Mylar, North Carolina, to write his second novel, his first having been fodder for Times Book Review novelist-reviewers reviewing novelist-reviewers, and his lyrical pages having fallen like a forest pine heard only by chipmunks. Readers bereft of a book reviewer's stamina may start on page 48, where the novel proper begins, as we enter the monologual mind of Billy's hero Robo, a white, ex–ABA basketball player who had a freakish gift on the court: He could disappear and reappear midair with a slam dunk, a feat no camera ever caught. Then a centuries-old, magical portrait of the Virgin and Child (that speaks with the Voice of God) suggests various dates when the world will end and falls into the hands of immigrant Serge Protector, which leads to the story of antipapist California cultist minister Noam Sain, who preaches Blowjobs for Christ. Plot fits within plot like Chinese boxes until Robo's boxed for years into an aluminum trailer like a Beckett character in a garbage can. Will Newsweek review this fitfully amusing extragalactic word salad? Will God? Or Michael Jordan for the Times Book Review? It takes courage it to write something this original—turned down, Plagens says, by the majors—and let the pine-tree roll where it may." — Kirkus 
or
Not Currently Available for Direct Purchase