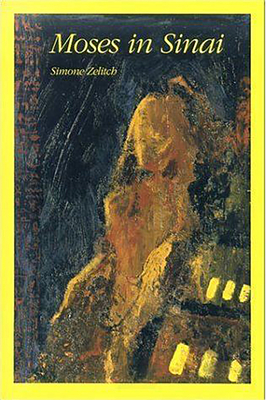 Moses in the Sinai (Hardcover)
Black Heron Press, 9780930773595, 270pp.
Publication Date: January 1, 2010
* Individual store prices may vary.
Description
Moses in the Sinai rewrites the books of Exodus and Numbers by way of The Arabian Nights, Nikos Kazantzakis, and Cecil B. DeMille. It makes generous use of myth and history, ancient and contemporary. The Hebrews of the novel are a varied mob of outlaws, magicians, sorcerers, aristocrats, and idolators, all content with being slaves. Moses must lead them into the Sinai against their will in the hope of serving a God whose very identity he doubts. The Hebrews of this historical and imaginative novel inhabit a world where children are born in cooking pots, meat rains from the sky, fish talk, and prophecies come true. It is a world where human emotion can take miraculous forms. Moses in the Sinai is full of such miracles.
About the Author
Simone Zelitch was born and raised in Philadelphia. She received her MFA from the University of Michigan. In the early 1990's she was on the first Peace Corps contingent to Hungary. She has traveled extensively in England, Central Europe, and Israel to research her novels. She teaches creative writing at college level in Philadelphia.
Praise For Moses in the Sinai…
"In this dark follow-up to her critically acclaimed novel Louisa, Zelitch returns to her first publishing house to offer a literary impression of the biblical hero Moses, painting his life as one continuous horror. In an opening scene, the baby Moses is abandoned for dead by his father, Amram, then disfigured and left with a stutter when his adoptive mother, the mad Egyptian princess Bityah, persuades him to suck on a live coal. After murdering an overseer as a young man, Moses wanders in despair amid poisonous snakes in Sinai until he returns to lead the Hebrew slaves to an unhappy freedom. There are more ghastly events to come; as Zelitch wryly observes, "Moses was doomed to live for a long time." The insane Bityah has a significant role, treating Moses as a pet and "my good baby" even as he approaches manhood. Later, her mad love for Moses and her bereavement after his desertion turns her brother/husband Merneptah's affection for Moses to hatred. Moses' family is harshly treated by Zelitch: his sister Miriam is "queen of the witches," while his brother Aaron serves in the temple of Seth, where he becomes the voice of the "god" and has homosexual relations with his mentor Nube. Zelitch excels in crafting atmosphere and descriptions, but even dedicated readers who are familiar with the biblical account will have difficulty following the story because of the multiple points of view and obscure symbols." — From Publishers Weekly, Copyright 2001 Cahners Business Information, Inc.
"When Zelitch tells the biblical story of Moses and the journey he led of the Hebrew people to Sinai, Moses is more truth seeker than leader. The mysteries of faith provoke him to philosophize and question God, hindering his desire to lead the slaves out of Egypt. His brother, the high priest Aaron, speaks for him and helps mobilize the people and guide them to their destination, but he, too, begins to question his capability. Ultimately, the people and the faith endure, but the theological questions that haunt the major characters in the novel–in particular, what is the name of their God? –humanize these larger-than-life figures. Occasionally one glimpses Zelitch's imaginative and romantic style, but the story line dominates the novel, which is unfortunate. In Louisa (2000), Zelitch more impressively showed her talent for combining harsh and earthy subject matter with graceful and picturesque prose. Still, those who care for her writing and fans of biblical fiction like Anita Diamant's The Red Tent (1997) will enjoy this book." — Michelle Kaske, From Booklist, Copyright © American Library Association. All rights reserved
or
Not Currently Available for Direct Purchase