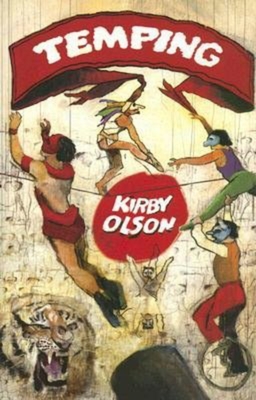 Temping (Hardcover)
Black Heron Press, 9780930773762, 240pp.
Publication Date: January 1, 2010
* Individual store prices may vary.
Description
Temping is about a no-longer-so-young man who is a temporary secretary, then returns to graduate school, and gets a job teaching the theory of humor--in Finland, where he also manages a circus. The book opens in Seattle and encompasses Hong Kong, France and Finland. It has a love story, rivalries between the hero and other academics, religious ecstacy and several attempted murders. Its characters include Finland's saddest poet, an evil dwarf who is both circus performer and a senior Professor of the Comic, and a beautiful, young, blonde acrobat. Temping is a madcap take on the seriousness of life. And it has a happy ending!
About the Author
Kirby Olson is an assistant professor at SUNY-Delhi, teaching philosophy, mythology, and literature. He has been a freelance writer, publishing art and literary criticism, poetry and translations from the French in Partisan Review, Exquisite Corpse, Second Coming, American Book Review, Pacific Northwest Magazine, and other journals. Temping is his first novel.
Praise For Temping…
"Anyone who spent time after college as a temp must have wondered at least once if they were doomed to temp forever. That is exactly what happens to 38-year-old Milhouse Moot. Milhouse has made temping a lifestyle. He refuses to have permanent relationships with jobs, women, friends, or places. When a bizarrely honest therapist talks the virginal Milhouse into attending graduate school, he finally gets a career and falls in love with a Finnish circus performer. The two marry and Milhouse winds up teaching humor in famously humorless Finland. From Seattle to Hong Kong to Finland and back to Seattle, this absurdist fable follows Milhouse's search for a life. The black comedy is by turns frustrating and enjoyable." — Booklist Reviews (Reviewed November 15, 2005)
"Kirby Olson has answered that fundamental age-old question: what's inside Finland? The answer is: love and the circus. Before you say, Why Finland?, read this tale and delight in its midgets, send-ups of academia, real-life angst, and a myriad of quips a la Queneau. All in all, a romp, deftly executed." — Andrei Codrescu, NPR commentator and author of Wakefield and Casanova in Bohemia
"Imagine Bukowski as a funny-as-hell teetotaler and the Beat Generation as a congregation of Lutherans and you'll end up with the narrator and cast of Kirby Olson's Temping." — Brian Evenson, chair of Brown University Creative Writing Department and author of Altmann's Tongue
"A comedy in quest of the nature of comedy. This is serious madcap. An intense and surprisingly realistic voyage into the light and the fantastic." — Willie Smith, author of Oedipus Cadet
"The story of an emotionally stuck intellectual who finds true love, Kirby Olson's first novel mixes absurdly believable characters with philosophical rantings and graces it all with enough far-fetched literary resonances to enliven any cocktail party. Like the work of David Sedaris, Irvine Welsh, and T.C. Boyle, this book is laugh-out-loud funny, emotionally gritty, and psychologically raw. A deliciously ripping story that will appeal to anyone who ever contemplated murdering their shrink." — Mark Haskell Smith, Hollywood Screenwriter and author of Moist and Delicious
or
Not Currently Available for Direct Purchase