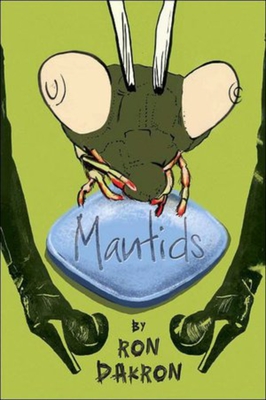 Mantids (Hardcover)
Black Heron Press, 9780930773861, 134pp.
Publication Date: October 15, 2008
* Individual store prices may vary.
Description
Mantids is an update on the world's oldest novel--Petronius's Satyricon--with a twist. In Satyricon, the hero can't get an erection; in Mantids, the narrator can't get rid of one. Combine his Viagra overdose with an invasion by mutant female praying mantises and a suzzed-out, speed-tweaker Astoria, Oregon locale; add biting comedy and a warrior heroine and stir into a B-movie plot stew and you have a classic Dakron novel, chock full of sardonic prose and more fun than a barrel of junkies.
About the Author
Ron Dakron is the author of four novels--infra, Newt, Hammers, and Mantids--. His work runs the gamut from surrealism to sci-fi pastiche. Point No Point tagged his novels as a cross between jive bullshit, hip-hop Henny Youngman, and full-tilt Rimbaudian street-smartass sublimity. Raven Chronicles judged him as sinister as a thirteen-year-old with a lighter and a keg of butane. Publishers Weekly deemed him a writer with a fine ear and plenty of gusto.
Praise For Mantids…
"I was sucked into Ron Dakron's prose and the world he created . . . I do recommend that you check it out and … let yourself get sucked into the tale Dakron is weaving." — 410media.com
"Ron Dakron . . . is among the very small cadre of experimental fiction whose substance actually matches its style" — Adam Groves, The Fright Site
"Dakron provides a side-splitting adventure that'll give anyone the much needed laugh they deserve in life. "Mantids" is a must for humor readers seeking something with a twist." — Midwest Book Review, February 2009, Vol. 4, No. 2
"The book tells the story of the end of mankind through Mantid Apocalypse, as told by a slacker douche-bag of a grunge rocker named Chad. Thanks to his razor-sharp focus on his own problems, he does not notice civilization falling around him. Once he manages to overdose on Viagra, he can't even think of anything but his own dick. As he tells the story, he continually excuses his lack of awareness on whatever his problem of the moment happens to be. As a tiny spoiler, I will point out that he does not overcome these flaws and save mankind. While I found the fact that the main character was such a worthless jerk annoying, I'm not sure that the book could have worked otherwise. The real star of the book is not the narrator but the writing. Dakron is a poet and his skill with words makes this book shine. He pulls all of your senses in while describing a world awash with giant, man-crazy, killer mutant bugs who think like the humans they once were. How can you not respect that level of skill? There's probably some deeper analysis of Chad that could be done, his reasons for what he did, his guilty asides about Lola's fate, his lack of self-awareness, and so on, but who cares? Read this book for the prose and not the likability of the protagonist. Plus, Mantids is short enough that you can dive in and experience Chad and then get out before it sticks. It's worth it." — John Enzinas, SF Site, April 16, 2009
or
Not Currently Available for Direct Purchase