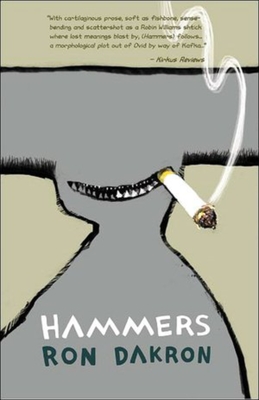 Hammers (Paperback)
Black Heron Press, 9780930773878, 251pp.
Publication Date: October 15, 2008
* Individual store prices may vary.
Description
A young geneticist perfects a medical serum made from both human and shark DNA. In her hurry and ambition, she skips biotech protocol and tries the serum on herself. But a mistake has been made - instead of shooting u a fraction of shark DNA, she's popped the entire hammerhead genetic code. Oops. Hammers is a comic novel about people turning into sharks. Set in a modern biotech city, it follows five characters as they mutate and fight for dominance, sex, and a reliable source of fresh squid. Hammers is a classic transformation tale in the genre of Frankenstein.
About the Author
Ron Dakron is the author of four novels--infra, Newt, Hammers, and Mantids--. His work runs the gamut from surrealism to sci-fi pastiche. Point No Point tagged his novels as a cross between jive bullshit, hip-hop Henny Youngman, and full-tilt Rimbaudian street-smartass sublimity. Raven Chronicles judged him as sinister as a thirteen-year-old with a lighter and a keg of butane. Publishers Weekly deemed him a writer with a fine ear and plenty of gusto.
or
Not Currently Available for Direct Purchase