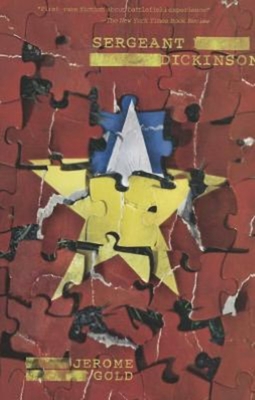 Sergeant Dickinson (Paperback)
Black Heron Press, 9780930773984, 180pp.
Publication Date: August 20, 2011
Other Editions of This Title:
Paperback (7/1/2003)
* Individual store prices may vary.
Description
Sergeant Dickinson is the radioman of a Special Forces A-team in the Central Highlands of Viet Nam. The camp is encircled and attacked for nine days by the North Vietnamese Army which wants to lure larger American units into combat for the first time. The war grows larger and darker, and Dickinson continues to be drawn back to it, tour after tour, even when he has the opportunity to leave, even though his post-traumatic stress threatens to overwhelm him. Readers of We Were Soldiers Once...and Young, or those who saw the movie, will be interested in the battle that led to the battle in the Ia Drang Valley depicted in We Were Soldiers... Library Journal: Highly Recommended. New York Times: First-rate fiction about battlefield experience. Nelson DeMille: The hard-hitting simplicity of Hemingway and the imagination of Philip Caputo...Truly remarkable and original.
About the Author
Jerome Gold is the author of fifteen books, including The Moral Life of Soldiers and the memoir, Paranoia & Heartbreak: Fifteen Years in a Juvenile Facility. Russell Banks said about this book: "I've finished reading Jerome Gold's terrific book cover to cover without a break… It's a powerful and very tenderhearted book without a soupçon of sentimentality. Unforgettable!" Mr. Gold's novels include Sergeant Dickinson, about which the New York Times Book Review said: "[It] belongs on the high, narrow shelf of first-rate fiction about battlefield experience." He has published stories, essays, reviews and poems in Chiron Review, Moon City Review, Fiction Review, Boston Review, Hawaii Review, and other journals.
Praise For Sergeant Dickinson…
"Few novels in any genre are as lucid, or as memorably spooky, as Jerome Gold's new book, Sergeant Dickinson; it belongs on the high, narrow shelf of first-rate fiction about battlefield experience… Gold, who served in Vietnam as a Special Forces sergeant, writes spare and elegant prose that belies the brutality and the claustrophobia he evokes here. His slim novel is a carefully chosen assortment of details and impressions; he expertly dismantles the myth—dear to civilians as well as to soldiers—"that if you do everything right no harm will come to you." — Dwight Garner, The New York Times Book Review
"You won't know what hit you. Sergeant Dickinson takes no prisoners. It is merciless, concussive. It nails you to the ground; the next best thing to not being there." — John Westermann, author of Exit Wounds and Ladies of the Night
"The grim resignation that replaces fear in the psyches of combat soldiers under fire is vividly dramatized in this latest from Gold… Sergeant Dickinson in fact hits every note quite convincingly: the book's hard to take, but it's harder to look away from it… This brief, swift tale's relentless fatalism and narrative momentum identify it as an authentic member of the company of Gustav Hasford's The Short-Timers and Michael Herr's Dispatches." — Kirkus Reviews
"A many-faceted jewel is the best description of this book because it forges humanity out of the most inhuman war situation. Gold has created a wry, war-worn character whose take on all that occurs around him will not be easily forgotten." — Beverly Gologorsky, author of The Things We Do To Make It Home
"I could not put Sergeant Dickinson down. This from a guy who has a house full of partially read books. This is a book for those who were there. And especially a book for those in Special Forces. Jerome Gold's first two sentences took me back to Vietnam. To the grinding of latterite dust in my teeth. To the stench of the dead. To the fear as I had known it. This is a miracle of hard work done by a tough but sensitive man. Gold has captured the raw edges of those things that will be with us forever." — Rollo Moss, veteran
"This book says it all with perfect pitch. It captures the visual imagery, dialogue, and complex psychology of the combat experience in a way that is unlikely to be equaled… The sit reps from other outposts are simply brilliant. The elephant bombing, unknown Americans entering the perimeter, etc. These things really happen. They are not, as I read in a literary journal review, simply a metaphorical device through which the author describes the absurdity of war. The creative reach presented here in a short work is incredible… I thought that Michael Herr's Dispatches had realistic dialogue, but he was a journalist, not a soldier. If you could leave on any helicopter, you could never tell the whole story. I have always hoped that someone who fought in the war would get it right. This is it." — Dennis Wagner, veteran
"Gold has shaped a powerful, merciless novel from this raw material. He captures the exhaustion and waste of war from the point of view of the noncommissioned officer… The political issues of the war are never discussed; only the reality of the moment matters. A natural for readers of Tim O'Brien." — Booklist
"A brooding, imaginative work that goes beyond many conventionally factual memoirs available. Highly recommended." — Library Journal
"Elucidating the emotional wounds of combat is where Mr. Gold's prose comes alive. His novel doesn't depend on the titillating excitement of a firefight or the fear of a surprise attack to keep the reader engaged. It zeroes in on the psychological battle soldiers faced after the war was over: how hard it was to reenter society after killing and seeing friends killed; the restless conscience that grapples with the worst in human nature…" — Asian Wall Street Journal
"Gold's technique has a directness that carries the reader through his slim volume almost as though the words had a physical force of their own." — The Arizona Daily Star

"[Sergeant Dickinson] develops a compelling portrait of a soldier entangled in the ruinous affliction of violence and guilt that is both moving and disturbing." — The Bloomsbury Review

"This book scares the hell out of me—and it should. It puts me in mind of From Here to Eternity and Michael Herr's Dispatches; the first, not a comparison in scope but because Jones depicted the Army as a place that, contrary to popular myth, made men no better than they were (sometimes, considerably worse); the second, because Herr's excellent reportage exactly conveyed the sense of how absolutely alone in war men can sometimes be… Jerry Gold isn't talking about the glory of war, nor the 'romance' of death. [Sergeant Dickinson] could be—is—about any war. All enemies are the same and distinctions cease to matter and the only reality is that men die. As I said, this book scares me. This truth should terrify." — Andrew Gettler, Chiron Review

"There are books about wars and books about War. The former tend to be historical or personal remembrances, while the latter may be removed from any real experience of this century's most lasting impression—one of nearly continual war and upheaval. In [Sergeant Dickinson] by Jerome Gold, we find one of those true blends of the personal and the universal. This is the particular novel of Vietnam experience that manages to express the universal of combat… The conversations with fellow soldiers and realistic barracks life would be reason enough to buy this novel. But the author digs deeper, and shows us a mind beginning to collapse inward from the very force of combat. It is no nervous breakdown that the soldier undergoes in this novel; rather, it is a moral breakdown… The novel comes across as a true and courageous narrative of one man's trip into a not-too-distant hell." — Phillip A. Collins, The Fiction Review
or
Not Currently Available for Direct Purchase