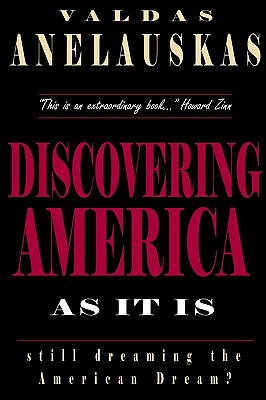 Discovering America As It Is
Paperback

* Individual store prices may vary.
Description
America's Extreme Capitalism Wreaked Havoc on the American People -- Even Before the Bubble Burst DISCOVERING AMERICA AS IT IS, is a monumental study of the devastating effect American-style capitalism has been having on the American people -- even before the onslaught of recession. It raises serious questions not only concerning America's role as a leading model for development, but even as to its future capacity to compete due to the deterioration of its human capital resulting from anti-social domestic policies. During the era of the Soviet Union, many human rights dissidents turned to the United States to champion their cause. Many even emigrated to the USA. Few, however, have expressed the disappointment that awaited them there, and fewer still have publicly exposed their view of human rights as practiced in the U.S.. That fact, in itself, would make Discovering America As It Is an important book, written by a journalist who was expelled from the USSR for human rights activities on behalf of his native Lithuania, and who, upon arriving in America, shared a political platform with such leaders of the American Republican Party as Newt Gingrich and Phil Gramm. "America remains the destination of choice for those who wish to emigrate from their own countries. It is still like a mysterious enchantress to many," Anelauskas writes. "I write this book for them. I have now spent ten years observing American society. Not only observing, but studying, analyzing and comparing it to other societies. When I lived in the Soviet Union, I thought that the Soviet communist system was the worst possible social order. The more I scrutinize American reality, the more I realize that they are like two ends of the same stick..." Ten years' observation of American reality has led Anelauskas to conclude that the U.S. extreme capitalist system poses an even greater threat than Soviet mock-communism to the well-being of the world. He paints an extraordinary portrait of the America he discovered - the America as it exists for most Americans. While it has been argued that capitalism in Russia failed because the Russians "didn't know how to do it," in the United States, the veritable beacon of world capitalism, capitalism does not appear to be working for most people, either -- even before the bubble burst. America's two-decades-long love affair with its free market gurus has gutted the body politic, leaving the American Dream of prosperity for the ordinary man little more than a charade the U.S. corporate, media and government elite successfully fronts to a credulous world. Twelve highly-documented chapters - on poverty, crime, health, education, homelessness, the deterioration of the family, income inequities and the replacement of welfare by workfare - detail the public disarray which results from an unfettered system of great wealth where the rich determine the social priorities. Even more telling than the comparison of American capitalism with communism, an issue which may -- or may not -- be moot, Anelauskas' book ceaselessly poses this question: Does capitalism have to weigh upon its people so mercilessly - or is the American version more extreme, more pitiless than that of other industrialized nations? In thousands of citations, Anelauskas documents the precipitous plunge in living standards of American citizens, measured not only against the standards enjoyed by citizens in other capitalist countries in the industrialized world, but against their own past levels. Among the many searing results: in all categories that measure economic equity, citizens of all other industrialized countries generally fare better than do Americans. This blistering reality is culled from innumerable researches by international organizations, domestic and international NGOs, independent U.S. think tanks, journalists, scholars, and even from American government sources, documented in over 80 pages of endnotes. While most critiques focus on one social.
Clarity Press, Inc., 9780932863294, 584pp.
Publication Date: November 27, 2002