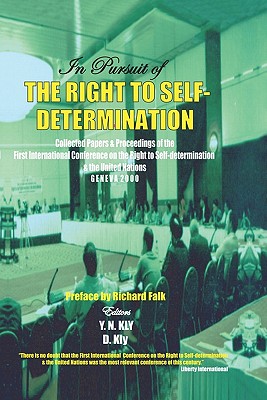 In Pursuit of the Right to Self Determin (Paperback)
Clarity Press, 9780932863324, 100pp.
Publication Date: February 25, 2015
* Individual store prices may vary.
Description
In today's world, there are more than 2000 thousand ethnic groups but only 192 states. When dominant ethnic groups ignore the socio-economic and cultural identity needs and rights of other peoples within the same state, demands for self-determination arise. Wars that threaten the stability of whole regions often result. This book - the collected papers of the historic First International Conference on the Right to Self-Determination & the United Nations held in Geneva in August, 2000 - is unique in that the issue of the right to self-determination is explored within the context of just demands by those to whom it means the most. It presents the views of minority members of various parliaments, UN experts and distinguished scholars, as well as interventions from NGO attendees from all corners of the globe expressing the self-determination needs and struggles of a wide range of indigenous populations, minorities, and internal nations: Kashmiris, Quebe ois, Irish, Tamils, Native Americans, African Americans, Saamis, South Moluccans, Roma, Dalits of India, Canadian First Nations, Khmer Krom of Vietnam, Chechens, Mon of Burma, Puerto Ricans, Native Hawaiians, the Quichua indigenous nation of Ecuador, the Zanzibaris, etc. The Collected Papers address such questions as: The role of the UN in implementing just demands for self-determination Self-determination as a form of collective restorative justice The relationship between policies of forced assimilation and racism, ethnocide and armed conflict Self-determination through minority rights, internal autonomy or Secession Self-determination as a means of further democratization of the UN and the international system.