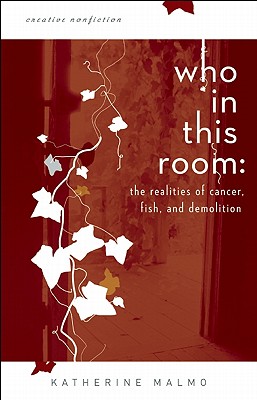 Who in This Room
The Realities of Cancer, Fish, and Demolition
Paperback

* Individual store prices may vary.
Description
Literary Nonfiction. Women's Health. Based on autobiographic experiences, WHO IN THIS ROOM is a gripping collection of creative nonfiction that pushes the boundaries of story and memoir. Kate's adventurous life is interrupted by a diagnosis of inflammatory breast cancer, giving her a 10% chance of living 5 years. But her story isn't just about cancer. It is a true tale of survival that is both lived and dreamt. It's about joy found in lemon trees or fly-fishing. It's about the survival instinct that helps us re-emerge and engage with the world.

"Katherine Malmo has written an unflinching, unsentimental, profoundly moving, wickedly funny...deeply courageous book detailing one woman's diagnosis, treatment, and recovery from inflammatory breast cancer.... She has] the power to reconnect us to that part of ourselves...that gritty, humored, resilient, unspeakably beautiful spark in the center of each of us that knows only how to lock its jaws and hang on." Pam Houston.
CALYX Books, 9780934971126, 176pp.
Publication Date: October 1, 2011
About the Author
Author Katherine Malmo received her Bachelor of Arts from the University of Washington Jackson School of International Studies, as well as certificates in Poetry, Fiction, and Non-Fiction. A sailing enthusiast and traveler, Katherine spent her early career working for the National Marine Manufacturers Association and was the Director of National Channel Sales for a media start-up called Activate. In 2002, Kate and her husband quit their jobs to travel the world and engage in every adventure they could find. When they returned 8 months later, she began writing full time. On May 20, 2005 Katherine was diagnosed with Inflammatory Breast Cancer. She underwent 27 weekly chemotherapy treatments, a bi-lateral mastectomy, and 6 weeks of radiation with the support of family, friends, and a Young Survivor Coalition support group. She is now a 5 year survivor and proud mother of Josie, her adoptive daughter.

Katherine is the winner of the Bellevue Literary Review's 2009 Goldberg Prize for fiction for a chapter from "Who in This Room" entitled "Made of Metal." She is the winner of the short story category of the 2007 Pacific Northwest Writers Association Literary Contest and finalist for "Nimrod International Journal"'s 2009 Katherine Anne Porter Prize for Fiction. She was also a finalist for the 2009 Albert and Elaine Borchard Foundation Fellowship. From August 2006 to October 2008, she participated in Pam Houston's private writing program (pamfa).
or
Not Currently Available for Direct Purchase