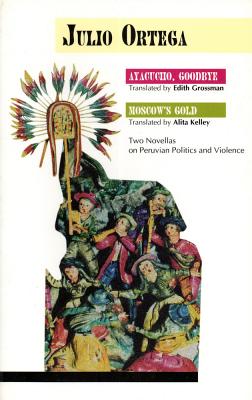 Ayacucho, Goodbye and Moscow's Gold: Two Novellas on Peruvian Politics and Violence (Paperback)
Two Novellas on Peruvian Politics and Violence
Latin American Literary Review Press, 9780935480665, 104pp.
Publication Date: December 1, 1994
* Individual store prices may vary.
or
Not Currently Available for Direct Purchase
Description
In the first of two allegorical novellas, Peruvian peasant leader Alfonso Canepa is murdered and mutilated by the police, but feeling unsatisfied with his death, the dead man sets out to recover his missing bones and seek Christian burial. During the pilgrimage from his mountain village to the capital he relates an epic satire of a Peru torn apart by a decade of terrorism and government repression. Stuck between life and death, the incomplete body of Canepa finds humor, cynicism, and hope in a nation that has become "a graveyard with an airport." InMoscow's Gold, a Peruvian teenager's life is unexpectedly disrupted and complicated by the strains and repressions of the Cold War era.He realizes that sometimes a person must come to terms with the people that friends can become when put under pressure.
About the Author
Julio Ortega is the author of many books of fiction, poetry, and criticism, including Poetics of Change: The New Spanish-American Narrative and Gabriel Garcia Marquez and the Powers of Fiction. He has received several honors as a writer and professor, including the Guggenheim Fellowship. He is a professor of Latin American Literature at Brown University. He lives in the area of Providence, Rhode Island. Edith Grossman is considered among the top Spanish-language literature translators in the United States and is known most notably for her translations of Nobel Prize-winning author Gabriel Garcia Marquez. She lives in New York City. Alita Kelley is a translator of The Identity of Hispanoamerica: An Interpretation of Colonial Literature. She is a emerita professor of modern languages at Penn State University. She lives in the Philadelphia area."
Advertisement