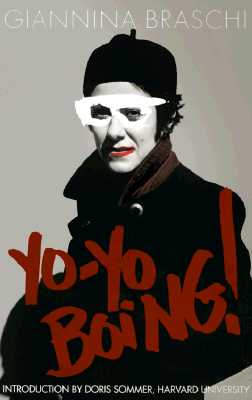 Yo-Yo Boing! (Paperback)
Latin American Literary Review Press, 9780935480979, 205pp.
Publication Date: September 1, 1998
Other Editions of This Title:
Paperback (9/27/2011)
Paperback (9/27/2011)
MP3 CD (5/2/2017)
MP3 CD (12/4/2012)
MP3 CD (9/15/2015)
* Individual store prices may vary.
Description
This iconic Spanglish novel by the leading Hispanic-American poet Giannina Braschi was heralded by the New York Daily News as "an in your face assertion of the vitality of Latino culture in the U.S." Jean Franco of Columbia University praised Braschi for her "extraordinary virtuosity, her command of many different registers, her dizzying ability to switch between English and Spanish. It is also a very funny novel, a novel of argumentative conversations that cover food, movies, literature, art, the academy, sex, memory, and every day life. It is a book that should be performed as well as read.
About the Author
Widely considered one of the most innovative voices in Hispanic-American literature, Giannina Braschi's classic titles include the postmodern poetry trilogy Empire of Dreams, the violent and funny Spanglish classic novel Yo-Yo Boing!, and the politically charged humorous work of dramatic fiction United States of Banana. She writes in Spanish, Spanglish, and English to capture the American immigrant's cultural experience and to explore the political options of her native Puerto Rico: colony, state, or nation. During her teen years in San Juan, Giannina Braschi was Puerto Rico s women's tennis champion, a singer, and a fashion model. She later discovered poetry as her calling and acquired a Ph.D. in the Spanish Golden Age from the State University of New York-Stony Brook. She has taught Rutgers University, City University of New York, and Colgate University where she served as National Endowment Distinguished Chair and Writer-in-Residence. She has published a book on the Spanish Romantic poet Becquer and essays on classics by Cervantes, Garcilaso, Lorca, Machado, and Vallejo. She has won grants and awards from the National Endowment for the Arts, New York Foundation for the Arts, El Diario/La Prensa, PEN American Center, Ford Foundation, Danforth Scholarship, InterAmericas, Instituto de Cultura Puertorriquena, and Reed Foundation. She lives in New York."
or
Not Currently Available for Direct Purchase