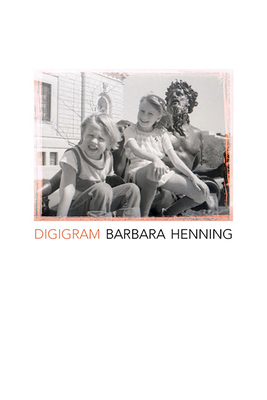 Digigram
Paperback

* Individual store prices may vary.
Description
Poetry. Barbara Henning's DIGIGRAM is unrelenting in its collaging of reality, visions, and thought buds. Sometimes diaristic and newsy, this is edgy poetry that moves beyond the tricks of fashion. An agitated style centralizes the subjects--heartless immigration policies, women's rights, weather, racism, virulent patriarchy, compromised democracy, family, daily life, sex, spirituality. In this book we get glimpses of Henning's assertive and experiential humanism. Pointedly political. DIGIGRAM is the work of a major writer.--Uche Nduka
DIGIGRAM pulses in and out like a telegraphic beacon. Both emotional archive and urgent transmission, Barbara Henning records a daily exchange with transnational historic events, the memories of city streets, intimacies both brief and endless. With each digigram a message is passed between the day and the mystery, the event and its shadow, the poet and the whole world.--Laura Henriksen
DIGIGRAM is an expedition through the uneven rhythms in which we're all immersed, a telegram from our digital travels through the tragedy and the beauty we're all close to at any moment. Languages culled from all levels of consciousness and experience--political tumult, daily routine, newspaper stories, anonymous conversations, flashes of memory--leap across the hyphens that join each thought-phrase to the next. Sensitive, caring and unwilling to accept the injustice happening the world over, Barbara Henning has given us a vital, life-affirming book.--Tony Iantosca
DIGIGRAM follows the path of Barbara Henning's daily orbit into the roar and stammer of the universe just outside her apartment door--the politics of the hour, the wandering populace, the upheavals and intervals of all the treasured ordinary. An engaged participant and insightful commentator, Henning defines her times with riveting staccato observation and claims her place as part of that manifold citizenry.--Maureen Owen
United Artists Books, 9780935992502, 92pp.
Publication Date: September 15, 2020