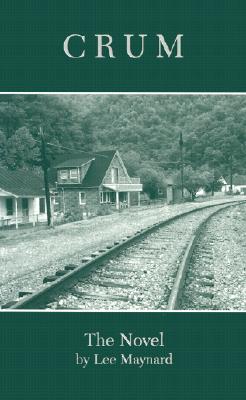 Crum (Paperback)
Vandalia Press, 9780937058596, 170pp.
Publication Date: September 1, 2001
* Individual store prices may vary.
Description
Lee Maynard, a native of Crum (Wayne County), West Virginia, spins a sometimes shocking, often outrageous, always irreverent tale of his young protagonist's rebellion against the place he's from and the people he grew up with. Part Huckleberry Finn and part The Red and the Black, Maynard's novel Crum is a touching and humorous look at small-town life and the peculiar rituals of male adolescence. Ultimately, though, Crum is not about the town of Crum itself but about rejecting the comfort and familiarity of home and finding a place in the larger world.

About the Author
Lee Maynard was born and raised in the hardscrabble ridges and hard-packed mountains of West Virginia, an upbringing that darkens and shapes much of his writing. His work has appeared in such publications such as "Columbia Review of Literature," "Appalachian Heritage," "Kestrel," "Reader's Digest," "The Saturday Review," "Rider Magazin"e, "Washington Post," "Country America," and "The Christian Science Monitor." Maynard gained public and literary attention for his depiction of adolescent life in a rural mining town in his first novel, "Crum," and received a Literary Fellowship in Fiction from the National Endowment for the Arts to complete its sequel, "Screaming with the Cannibals."An avid outdoorsman and conservationist, Maynard is a mountaineer, sea kayaker, skier, and former professional river runner. Currently, Maynard serves as President and CEO of The Storehouse, an independently funded, nonprofit food pantry in Albuquerque, New Mexico. He received the 2008 Turquoise Chalice Award to honor his dedication to this organization.
Praise For Crum…
"The first couple of pages, I'm cringing. I'm tempted to put it down. I imagine a schoolteacher somewhere in the Midwest having all of these awful stereotypes about us confirmed. Yet, despite myself, I continue to read, and I am moved. It is literaure. Its voice is true. It's a wonderful portrait of rural America. The book wins me over." John O'Brien, author of At Home in the Heart of Appalachia
"Maynard is a Gonzo Mountaineer..." Pops Walker, musician and writer
"Crum is great. Lee Maynard is a genius. No writing has captured rural America this well since Mark Twain. A masterpiece." Stephen Coonts, author Flight of the Intruder
"It's a tale of growing up in and moving away from Crum, a jumble of shacks on the Tug River in the state's God-forsaken southern coal fields. As tales about coming of age in rural America go, Crum isn't that much out of place on a shelf next to Mark Twain and Harper Lee." David Bean,  The Charleston Gazette
"Maynard presents a portrait of a young man's psyche which ranks just a small notch below great American portrayals of adolescence - Huckleberry Finn and The Catcher in the Rye." Michael Shannon Friedman, The Charleston Gazette
"Whatever you do, don't read Crum." Jack Cawthon, Hur Herald
"For all its faults, Crum creates a hilarious, poignant, recognizable picture of a place and time, and of people I've known." Rodger Cunningham, Journal of Appalachian Studies
"Each time I read Lee Maynard's Crum, I ask myself why this foul-mouthed, sexist, scatological, hillbilly-stereotyping novel is one of my all-time favorites." Meredith Sue Willis, author Oradell at Sea
"[Maynard] writes like Jean Shepherd on acid...Crum is one twisted little novel." Robert Beveridge, Critic
or
Not Currently Available for Direct Purchase