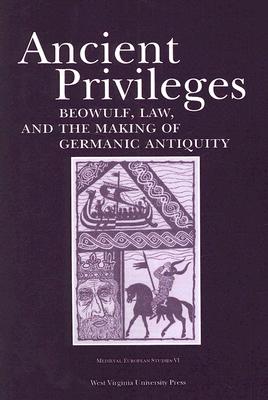 ANCIENT PRIVILEGES (Paperback)
"BEOWULF,LAW, AND THEMAKING OF GERMANIC ANTIQUITY" (WV MEDIEVEAL EUROPEAN STUDIES #6)
West Virginia University Press, 9780937058985, 183pp.
Publication Date: April 21, 2006
* Individual store prices may vary.
Description
One of the great triumphs of nineteenth-century philology was the development of the wide array of comparative data that underpins the grammars of the Old Germanic dialects, such as Old English, Old Icelandic, Old Saxon, and Gothic. These led to the reconstruction of Common Germanic and Proto-Germanic languages. Many individuals have forgotten that scholars of the same period were interested in reconstructing the body of ancient law that was supposedly shared by all speakers of Germanic. Stefan Jurasinski's Ancient Privileges: Beowulf, Law, and the Making of the Germanic Antiquity recounts how the work of nineteenth-century legal historians actually influenced the editing of Old English texts, most notably Beowulf, in ways that are still preserved in our editions. This situation has been a major contributor to the archaizing of Beowulf. In turn, Jurasinski's careful analysis of its assumptions in light of contemporary research offers a model for scholars to apply to a number of other textual artifacts that have been affected by what was known as the historische Rechtsschule. At the very least, it will change the way you think about Beowulf.
About the Author
Stefan Jurasinski is Associate Professor and Director of Graduate Studies in the Department of English at SUNY Brockport. With R.D. Fulk, he is the editor of "The Old English Canons of Theodore" . He is currently at work on a monograph entitled "Secular Law and the Old English Penitentials" as well as a collaborative edition of "The Laws of Alfred and Ine."
Praise For ANCIENT PRIVILEGES: "BEOWULF,LAW, AND THEMAKING OF GERMANIC ANTIQUITY" (WV MEDIEVEAL EUROPEAN STUDIES #6)…
"This is a book of distinction. It is sober, lucid, precise, and illuminating. Even those with little interest in Old English may learn from its comments on the psychology of scholars, for whom inertia is so potent, and the echoing of one's predecessors so very soft an option. Ancient Privileges, therefore, is an outstanding achievement, greatly to the credit of its author and of West Virginia University." Yearbook of English Studies
"This summary of Jurasinski's arguments cannot do justice to the range of his evidence from the murky territory of nineteenth-century scholarship. Jurasinski proves himself to be a worthy successor of Allen Frantzen in challenging the appeals to consensus and authority that Frantzen believes have undermined much current writing about this poem."  Journal of English and Germanic Philology
 "Jurasinski makes a major contribution to Beowulf studies with the publication of his monograph, Ancient Privileges." Year's Work in English Studies
 "This book will make a notable contribution to the fields of Beowulf studies, Anglo-Saxonism, legal history, and nineteenth-century intellectual history." Lisi Oliver, author The Beginnings of English Law