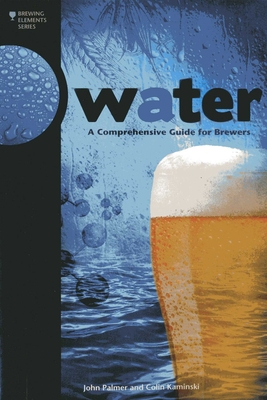 Water
A Comprehensive Guide for Brewers (Brewing Elements)
Paperback

* Individual store prices may vary.
Description
Water is arguably the most critical and least understood of the foundation elements in brewing. For many brewers used to choosing from a wide selection of hops and grain, water seems like an ingredient for which they have little choice but to accept what comes out of their faucet. But brewers in fact have many opportunities to modify their source water or to obtain mineral-free water and build their own brewing water from scratch. Much of the relevant information can be found in texts on physical and inorganic chemistry or water treatment and analysis, but these resources seldom, if ever, speak to brewers. Water: A Comprehensive Guide for Brewers takes the mystery out of water's role in the brewing process. This book is not just about brewing liquor. Whether in a brewery or at home, water is needed for every part of the brewing process: chilling, diluting, cleaning, boiler operation, wastewater treatment, and even physically pushing wort or beer from one place to another. The authors lead the reader from an overview of the water cycle and water sources, to adjusting water for different beer styles and brewery processes, to wastewater treatment. It covers precipitation, groundwater, and surface water, and explains how municipal water is treated to make it safe to drink but not always suitable for brewing. The parameters measured in a water report are explained, along with their impact on the mash and the final beer. Understand ion concentrations, temporary and permanent hardness, and pH. The concept of residual alkalinity is covered in detail and the causes of alkalinity in water are explored, along with techniques to control alkalinity. Ultimately, residual alkalinity is the major effector on mash pH, and this book addresses how to predict and target a specific mash pH--a key skill for any brewer wishing to raise their beer to the next level. But minerals in brewing water also determine specific flavor attributes. Ionic species important to beer are discussed and concepts like the sulfate-to-chloride ratio are explained. Examples illustrate how to tailor your brewing water to suit any style of beer. To complete the subject, the authors focus on brewery operations relating to source water treatment, such as the removal of particulates, dissolved solids, gas and liquid contaminants, organic contaminants, chlorine and chloramine, and dissolved oxygen. This section considers the pros and cons of various technologies, including membrane technologies such as filtration, ion-exchange systems, and reverse osmosis.
Brewers Publications, 9780937381991, 300pp.
Publication Date: October 7, 2013
About the Author
John Palmer is the best-selling author of How to Brew, and the co-author of Brewing Classic Styles. He is also the co-host the popular brewing podcast, Brew Strong. John is a metallurgical engineer by trade, and is intrigued by the processes of brewing from an engineer's point of view, including malting, mashing, water chemistry, lautering, clarity, color, and foam retention. John was born in Midland, MI and currently resides in California. Colin Kaminski's brewing career started as the product designer at Beer, Beer and More Beer, designing more than 180 products including the Peltier cooled conical fermentor. Colin has written on a variety of topics including lutherie, holography, solar astronomy and beer. He has been the Master Brewer at Downtown Joe's Brewery since 2003. Colin resides in California
or
Not Currently Available for Direct Purchase