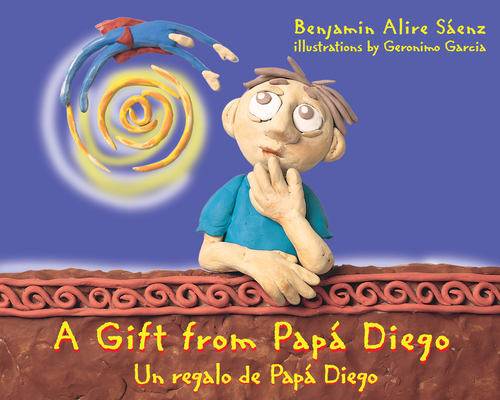 A Gift from Papa Diego: Un Regalo de Papa Diego (Paperback)
Un Regalo de Papa Diego
Cinco Puntos Press, 9780938317333, 40pp.
Publication Date: April 1, 2008
* Individual store prices may vary.
or
Not Currently Available for Direct Purchase
Description
Sensitively told and true to the experience of many Mexican Americans, this bilingual picture book bridges the borders that separate all families who must live far apart from their loved ones.--Booklist ..".accompanied by innovative illustrations, originally modeled with clay. Reminiscent of Mexican folk art, they fit the story especially well, conveying its warmth and poignancy."--Kirkus Reviews "A tender love story of a book...a kiss on the forehead at bedtime "--Naomi Shihab Nye "A stylist in both poetry and prose, Saenz has now taken his magic of flight to younger readers. This is his gift to them. Parents, snuggle up to your children at night and read this delightful tale of Dieguito."--Gary Soto "La traduccion al espanol es buena y el diseno del libro es atractivo."--People en Espanol "The tender story in A Gift From Papa Diego / Un regalo de Papa Diego by Benjamin Alire Saenz is sprinkled with Spanish expressions throughout the English version, adding to the flavor of this bilingual tale. A glossary of the terms used is provided at the end of the book. In addition, a complete Spanish text is printed on each half page. Illustrations of wonderful clay figures painted with bright colors highlight the narrative and provide an attractive graphic border. This paperback original is a debut into the world of children's books for Mr. Saenz, and he has succeeded in writing a poignant read-aloud book for young children - at once entertaining and comforting."--Barbara Bonds Thomas Benjamin Alire Saenz was born in his grandmother's house in Picacho, New Mexico--a farming village 40 miles north of the border between Mexico and the United States. Ben's parents spoke mostly Spanish at home and his grandparents spoke only Spanish, so Ben learned much of his English from his brothers and sisters, his friends, and by watching cartoons on television. When he was a little boy, he was a passionate reader of comic books--Superman, Spiderman, Batman, and all the rest of the Super Heros. Ben thought it was cool that Superman could fly. Growing up, Ben discovered that he liked to write. He liked to draw and paint, too.
About the Author
BENJAMIN ALIRE SAENZ was born in his grandmother's house in Picacho, New Mexico--on the outskirts of Las Cruces, New Mexico where Juliana in Hollywood is set. He was the fourth of seven children and was brought up in a traditional Mexican-American Catholic family. His family spoke mostly Spanish at home, and it was only through his education in the public schools that he learned to speak and write in English. He entered the seminary in 1972, a decision that was as much political as it was religious: he was heavily influenced by such Catholic thinkers as Thomas Merton, Dorothy Day, Cesar Chavez and the Berrigan brothers. After concluding his theological studies at the University of Louvain, he was ordained a Catholic priest. Three and a half years later, he left the priesthood. At the age of 30, he entered the Creative Writing Program at the University of Texas at El Paso. He later received a fellowship at the University of Iowa, and in 1988, he received a Wallace E. Stegner Fellowship in poetry from Stanford University. In 1993 he returned to the border to teach in the Bilingual MFA program at the University of Texas at El Paso. His most recent book of poetry, Elegies in Blue, was published by Cinco Puntos Press in 2002. This is his first book for young adults.
Advertisement