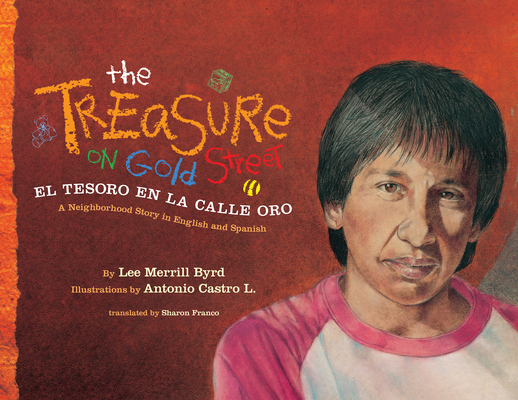 The Treasure on Gold Street/El Tesoro En La Calle Oro (Hardcover)
A Neighborhood Story in Spanish and English
Cinco Puntos Press - Cinco Puntos Press, 9780938317753, 37pp.
Publication Date: October 1, 2003
* Individual store prices may vary.
Description
Hannah loves her friend Isabel. Isabel doesn't criticize. She's never in a hurry. And--unlike other grownups and some bigger kids--she doesn't tell Hannah what to do. But the day comes when Hannah begins to realize that Isabel is different. On Isabel's birthday, everyone on Gold Street recognizes that she is the neighborhood's real treasure.
Lee Byrd is the author of the award-winning collection of short stories, My Sister Disappears (SMU Press, 1993), and co-publisher of Cinco Puntos Press. She likes to spend her spare time with the children of the El Paso neighborhood where she and her family have made their home for the last 25 years.
Praise For The Treasure on Gold Street/El Tesoro En La Calle Oro: A Neighborhood Story in Spanish and English…
"Hannah and Isabel are friends. Like Hannah, Isabel speaks both English and Spanish. Hannah thinks playing with Isabel is wonderful. But when an older girl points out that Isabel is "too old" to play with, Hannah realizes that her friend is different. Isabel is, after all, an adult. Simultaneously a sensitive treatment of the mentally challenged and a celebration of the real-life Isabel, this 2004 Skipping Stones Award winning title is best suited for independent readers. The text flows smoothly in both English and Spanish. The unsentimental tone of the text makes this a good introduction to the subject of the mentally challenged."Críticas

"Employing simple declarative sentences and a distinctly child's-eye view, Byrd creates a full and subtle treatment of the interaction of a mentally disabled woman and the neighbors and family members who surround her. Byrd's tale evokes not simply Isabel's circumscribed but happy life, but also the life stages of 'ordinary' children as they grow through differing attitudes toward the disabled. The illustrations are a fascinating combination of the vivid portraiture of Castro L. laid upon the cheery, Sunday-comics-style backgrounds of his son Castro HAn excellent introduction to the value of some of our society's least appreciated citizens."Kirkus Reviews

"This is at once a sensitive treatment of the mentally challenged and a celebration of the real-life Isabel. Best suited for independent readers, the text flows smoothly in both English and in the informed Spanish translation. The unsentimental tone of the text makes this a good introduction to the subject and could serve as a discussion starter."School Library Journal

"Based on a true story about a mentally retarded woman, this story speaks to readers about power of friendship and its abilities to overcome physical challenges and age-related differencesCreative illustrations and background depict a multi-cultural set of characters ranging in age from a baby to an old woman. This book, with text in both Spanish and English and its careful treatment of mental retardation, will help to round out any classroom or library collection." Children's Literature

"Written by an active member of the National Association of the Mentally Ill, and brought to life with heartwarming color illustrations by Antonio Castrol L., THE TREASURE ON GOLD STREET is very highly recommended." —Midwest Book Review

"This book is rich in many kinds of community. Isabel inspires loveand her story is sure to as well. From the bilingual format to the unusual heroine to the lively illustrations, which combine cartoon and realismthis is a unique book for children, and for those who inspire them to read." New Mexico Magazine
or
Not Currently Available for Direct Purchase