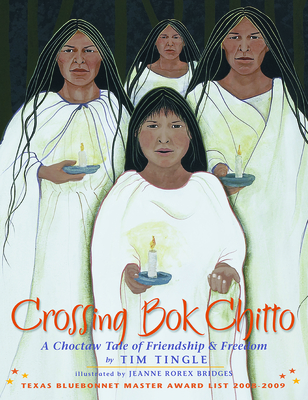 Crossing BOK Chitto
Hardcover

* Individual store prices may vary.
Description
There is a river called Bok Chitto that cuts through Mississippi. In the days before the War Between the States, in the days before the Trail of Tears, Bok Chitto was a boundary. On one side of the river lived the Choctaws. On the other side lived the plantation owners and their slaves. If a slave escaped and made his way across Bok Chitto, the slave was free.
Thus begins Crossing Bok Chitto, told by award-winning Choctaw storyteller Tim Tingle and brought to life with the rich illustrations of Jeanne Rorex Bridges.
Martha Tom, a young Choctaw girl, knows better than to cross Bok Chitto, but one day--in search of blackberries--she disobeys her mother and finds herself on the other side. A tall slave discovers Martha Tom. A friendship begins between Martha Tom and the slave's family, most particularly his young son, Little Mo. Soon afterwards, Little Mo's mother finds out that she is going to be sold. The situation seems hopeless, except that Martha Tom teaches Little Mo's family how to walk on water to their freedom.
Choctaw storyteller Tim Tingle blends songs, cedar flute, and drum with tribal lore to bring the lore of the Choctaw Nation to life in lively historical, personal, and traditional stories. His collection of stories Walking the Choctaw Road was selected as the Oklahoma Book of the Year.
Artist Jeanne Rorex Bridges traces her heritage back to her Cherokee ancestors. Crossing Bok Chitto is her first fully illustrated book.
Praise For Crossing BOK Chitto…
"In a picture book that highlights rarely discussed intersections between Native Americans in the South and African Americans in bondage, a noted Choctaw storyteller and Cherokee artist join forces with stirring results… the story [has a] powerful impact on young readers." —Booklist, starred review

"Crossing Bok Chitto… tells a tale with a happier ending, but its journey is no less a departure from the narrative of American uplift. In literature for children, this is a lesson as old as the Grimms. But these realities cut deeper than any fantasy." —The New York Times

"Tingle is a performing storyteller, and his text has the rhythm and grace of that oral tradition. It will be easily and effectively read aloud. The paintings are dark and solemn, and the artist has done a wonderful job of depicting all of the characters as individuals, with many of them looking out of the page right at readers." —School Library Journal

"A moving and wholly original story about the intersection of cultures…Bridges creates mural-like paintings with a rock-solid spirituality and stripped-down graphic sensibility, the ideal match for the down-to-earth cadences and poetic drama of the text." —Publishers Weekly, starred review

"Crossing Bok Chitto is very highly recommended for all young readers as a celebration of diversity, acceptance, and unity in a remarkable production of expert authorship and invaluable illustrations." —Midwest Book Review, starred review

"A very moving story about friends helping each other and reveals a lesser-known part of American History: Native Americans helped runaway slaves...While, this is a picture book; it would make a wonderful read-aloud for middle elementary students." —Children's Literature
Cinco Puntos Press, 9780938317777, 40pp.
Publication Date: April 1, 2006
About the Author
Choctaw storyteller Tim Tingle makes his living telling stories and teaching folklore at schools, universities and festivals nationally. The Wordcraft Circle of Native American Writers and Storytellers selected Tim as Contemporary Storyteller of the Year for 2001. Tim Tingle lives in Canyon Lake, Texas, near San Antonio. Artist Jeanne Rorex Bridges traces her heritage back to her Cherokee ancestors. Born in Oklahoma, her work is nationally known and has won many awards in Native American art shows, including the 2005 Best of Show at the Five Civilized Tribes Museum. Crossing Bok Chitto is her first fully illustrated book.
or
Not Currently Available for Direct Purchase